Madeleine (cake) Recipe | Simple and Easy Madeleine Recipe with Step by Step Procedures and Pictures
Madeleine are shell shaped small cakes.To make this cake we need traditional moulded pan.Usually Almonds will be included in Traditional recipes,but here i shared vanilla and chocolate Madeleine.
Recipe Source: Joy of Baking
Ingredients For Vanilla Madeleine:
1 cup Plain Flour
1/2 cup unsalted butter,at room temperature
A pinch Salt
3 Eggs
1/2 tsp Baking Powder
2/3 cup sugar
1 tsp Vanilla Extract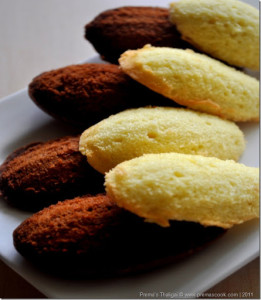 Method:
Step :1
Using electric mixer,beat the eggs and sugar well at medium to high speed,till a thick ribbon forms.
Step :2
Shift the dry ingredients and add in with the egg mix.Add butter,vanilla extract and fold in gently.
Step :3
Grease the mould and drop a tbsp of mix.Fill 2/3 – 3/4 full of batter in each mould.
Step :4
Bake it for 10 – 13 minutes / till the edges turns golden brown.Cool down the mould and take out the cake slowly.
Vanilla Madeleine is ready now,Lets make Chocolate Madeleine.
Ingredients for Chocolate Madeleine:
Same as above ( Vanilla Madeline ingredients )+ add 1/2 cup Melted dark chocolate
Method:
Step :1
Melt the chocolate using hot pot or double boiler method.Repeat steps 1&2 of vanilla madeleine and then mix the melted chocolate with the batter.
Step:2
Pour the chocolate mix in the mould and bake it for 10 mins and take out.
Chocolate Madeleine is ready.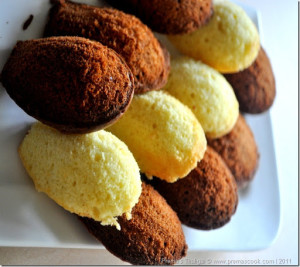 Here our vanilla & chocolate Madeleine,dip in hot coffee/ tea and enjoy