As my daughter had school holidays it was difficult to make snacks everyday as she likes French fries I made this one day and baked it. She liked it very much. It's a good change from usual fried ones and healthy too.
Ingredients:


2-3 Russet Potatoes(or any potatoes of your choice)
2 tbsp Olive Oil
Salt to Taste
Any Seasoning






Method:


Russet Potatoes are best choice for preparing fresh fries.You can choose any other varieties of potatoes as you wish.


Peel and wash the potatoes to prepare for slicing.
Here is my tool,i use this knife for slicing if you don't have this knife

just use your knife and slice the potato into
four straight pieces.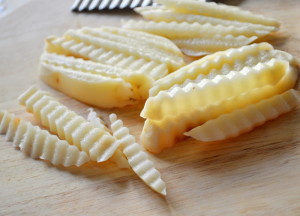 Slice the potato into four pieces further into thin slices and make sure that they must be in even sizes for even cooking.




Pre heat the oven and lay the potatoes on some parchment paper/baking tray, season them with salt and olive oil.Keep it oven and Bake for about 30-40 minutes at 180 c or until golden brown.




When they are in the oven, ensure that you turn them periodically to ensure even browning.




Here is our Home made Crispy Baked French fries is ready to serve.




You can Serve it with Sauce or any other seasonings.


I am sending this to Only-Baked Event by Food delicious and Tamalapaku