Empty Biryani, Plain Kuska Biryani Rice, Bai Veetu Kuska recipe
Plain Biryani, Bai Veetu Kuska Biryani Rice using Seera Samba Rice and Freshly ground Homemade Bai Biryani Masala. This Kuska is completely Bhai Style Kuska, If you attend marriages in Ayyampettai or Mannarkudi Side this empty Kuska is very famous. Mostly they prepare Nei Choru and Empty Kuska for the vegetarian people who are attending the marriage. Side Dish for Empty Kuska mostly Gobi 65, Raita, Vegetarian Dalcha, Biryani Kathirikai & Thakkali Jam. I have uploaded all these recipes to my blog and youtube Channel Prema's Culinary! If you find time do Check I linked the recipes too.
There is one more Kuska recipe I have shared before which is Mess or Hotel Style Kuska with Fried Bread on it. You can check the Vella Kuska Recipe if interested.
What is Kuska Rice?
Kuska rice is nothing but dry, plain rice 'khushk,' which is an Urdu word meaning 'dry.' The rice is made with flavour authentic spices which do not contain any vegetables or meat on it. It is just dry flavourful rice. There are several names for it Kushka, Empty biryani, Plain Briyani Etc, and Northside (Mughal) they make this with Basmati rice. But the Orginal recipe is made with Seera Samba Rice
Before Proceeding to the Bhai Veetu Kuska recipe, I need to share the Biryani Masala Powder recipe first. For this Empty Biryani, Bhai Biryani masala Powder Is the highlight. This Biryani Masala Powder is a universal masala powder we can use for making Egg roast, Kurma, Salna, etc. Let's See Bhai Biryani Masala Powder Recipe,
Bhai Biryani Masala Powder Recipe: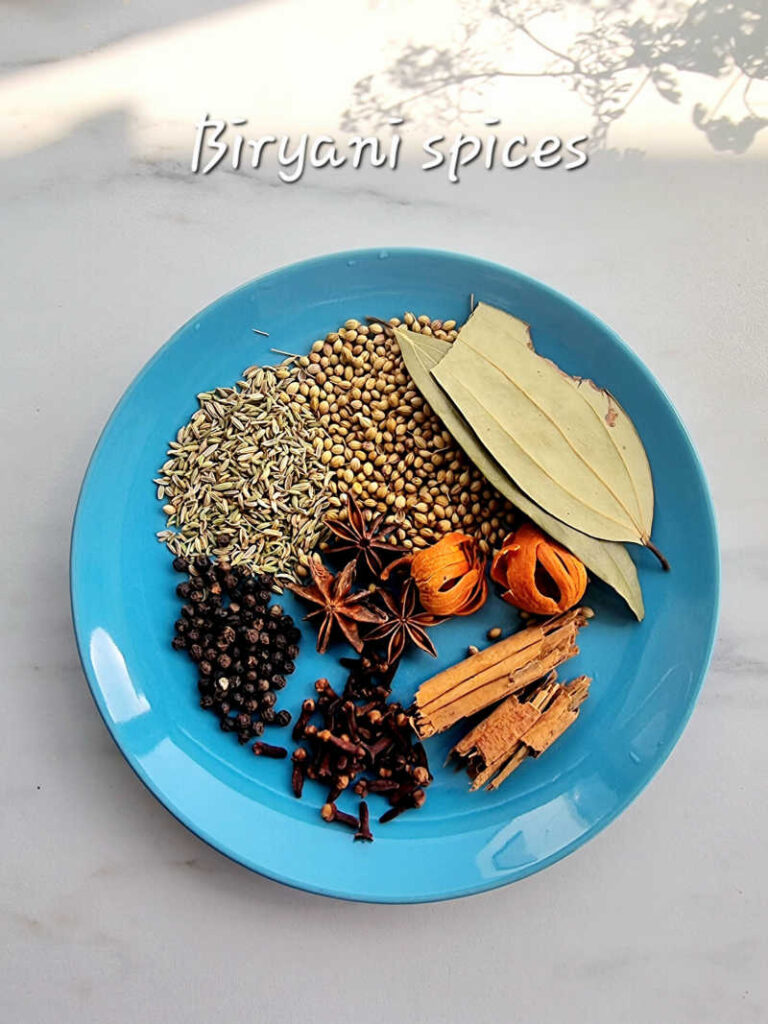 Bhai Biryani Ingredients: 3 Bay leaves, 15 cloves, 3 tbsp coriander seeds, 2 maces (Jaadipathri), 2 big sticks of Cinnamon(10g), 3 Star Anise, 3 Cardamom, 1 tsp Pepper, 1 tbsp Fennel Seeds(i forgot to add Cardamom you please add it)
How to Make Biryani Masala Powder at Home?
Heat a pan(preferably an iron pan) on medium heat, Once the pan gets heated add the above-mentioned ingredients. Now bring the heat to low, toss them for 2 mins, and then switch them off.
Don't roast them for more than 2 mins. It will lose its flavor.
Transfer them to a Dry clean Mixie Jar and Powder it. Flavour Ful Biryani Masala Powder ready!
Store it in a clean dry Air tight container
Use 1 tsp of biryani masala powder for 2 cups of rice. You can add this Powder to Egg Curry, Kurma, salna, etc.
Always make in Small quantities and store in the fridge to retain freshness.
Kuska Biryani Recipe Video:
Bhai Kuska Recipe, Kuska Biryani rice Step by Step Pictures:
Heat a Pan or Kadai Add 1 tbsp Oil + 1 tbsp Ghee, Once the pan gets heated add 1 bay leaves, 3 cardamom, 3 cloves, and 2-inch cinnamon sticks.
Now add 2 sliced onions, and fry well till it becomes soft. Add 1 tsp ginger garlic paste & fry along with Onion. Now 4 green chilies, curry leaves, and 2 ripe tomatoes saute well.
Now 1 tsp chili powder, 1/2 tsp Kashmiri chili powder, 1/4 tsp turmeric powder, and 2 tsp salt. At this stage add 1 tsp Bai Biryani masala powder.
Along with that add 1/4 cup of thick curd.
Cover and cook for 5 to 7 mins or till the oil separates.
After 7 mins add 2 cups Seeraga samba rice(soak the rice just for 15 mins before you add). Mix the rice well with the masala.
Add 3 & 3/4 cups of water, and mix well. Now check the salt at this stage. If required add it.
Cover and Cook on Medium heat till the rice is cooked well & soft. Switch off the stove.
Once the rice is cooked. Add 1 tsp ghee and slowly fluff up the rice. Add food color (adding food color is optional) and again cover it rest it for 2 to 3 mins and then serve Biryani. This 2 to 3 min helps the rice to get soft and fluffy.
Tips to make Perfect Kuska Biryani:
Soaking time for Seeraga samba rice should be just 15 mins after 15 mins you need to drain the water and keep ready for cooking. More soaking time leads to soggy biryani.
Water Measurement & rice measurement should be accurate. Add the water & rice ratio mentioned in the post accurately.
Lastly adding ghee at the final stage helps to fluff up the rice.
More Interesting Biryani Recipes, Empty Green Biryani, Plain Karuvepillai Biryani Recipe, Thengai Paal Biryani Recipe, Veg Kushka, Kothamalli Biryani, Brinji rice recipe, Soya Chunk Biryani.
Hope this post will help you to make Perfect Kuska rice at Home. If you have any Doubts about making Kuska or If you want any specific recipes you can email me at cpremas79@gmail.com. Do Follow me on Instagram for more Recent updates and every cooking recipe video
Do share your thoughts with me, Also tag our page on Instagram @premasculinary with hashtag it on #premasculinary
Thanks & Have a Good Day! 😉Enjoy Cooking and Mindful Eating!