Kola Urundai Kulambu RECIPE, Veg Kola Urundai Kuzhambu, Chettinad Style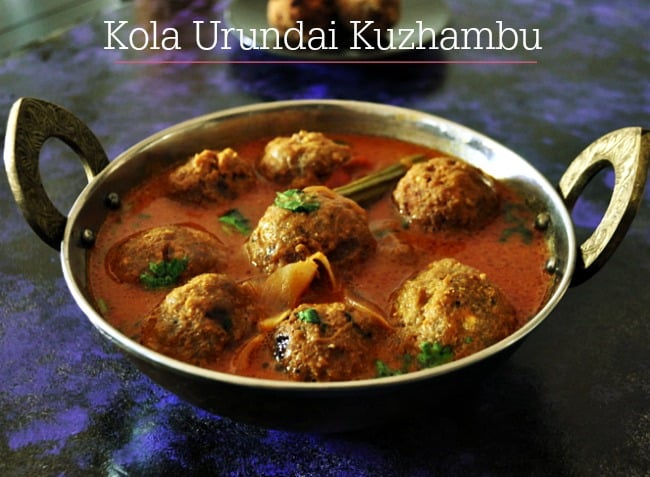 Kola Urundai Kulambu, Veg Kola Urundai Kuzhambu, Chettinad Style with detailed photos and video. Kola Urundai Kulambu is minced meat is mixed with Indian spices and made into balls, these balls are dropped inside spicy curry. Today am Featuring a meatless Kola Urundai Kuzhambu, made from Soy chunks. I have posted Kola Urundai Biryani recipe and Kola Urundai Recipe recently both are a super duper hit in my place. A reader mailed me to Post the Kola Urundai Kulambu recipe and am sharing it today.
Amma's Kola Urundai Kuzhambu recipe, Tastes too good and you don't feel like stop having it. Still, I remember Amma making this Kola Urundai and she puts the Urndai directly inside the kuzhambu not the fried once. We can put directly but fried kola Urundai tastes better so you try both the version.
Do check related kuzhambu recipes like Paruppa Urundai Kuzhambu, Paruppu Urundai Mor Kuzhambu, Mor Kuzhambu with Vadai, Pavakkai Puli Kuzhambu
DIRECTIONS TO MAKE KOLA URUNDAI KULAMBU, VEG KOLA URUNDAI KUZHAMBU RECIPE:
Kola Urundai Kulambu RECIPE, Veg Kola Urundai Kuzhambu, Chettinad Style
Kola Urundai Kulambu recipe with step by step photos
Author:
Premalatha Aravindhan
Ingredients
for Kola Urundai we need:
1-inch cinnamon(pattai)
2 cloves(krambu)
2 cardamom(elakkai)
4-5 peppercorns(milagu)
1 dry red chili(milagai)
1 tsp coconut oil(Thengai Ennai)
3 tbsp roasted gram dal(pottu Kadalai)
1 onion finely chopped(vengayam)
1 tbsp ginger finely chopped(inji)
2 tbsp coriander leaves(kothamalli elai)
2 cups soya chunks
1 tsp salt
1 tsp oil + coconut oil for frying
For Kuzhambu We need:
Oil 1 tsp
1 medium sized onion
1 tomato chopped finely
1 tbsp ginger garlic paste
vegetables of your choice
1 lemon size tamarind or ½ cup tamarind extract
⅓ tsp turmeric powder
1 tsp chili powder
2 tsp coriander powder
salt as needed
Instructions
Kola Urundai:
Heat coconut oil, roast cinnamon stick, cardamom, cloves, pepper, fennel seeds dry chili and roasted gram dal. Roast till golden. Cool down for a while and ground it to a smooth powder. Kola Urundai masala powder is ready.
Add the soy chunk paste, Grounded Kola Urundai Masala Powder in mixing bowl. Add finely chopped onion, ginger and coriander mix well.
Add chili powder, turmeric powder, and salt. Mix well. Add oil and mix well.
Make small Urundai and deep fry them in oil. KOLA URUNDAI IS READY.
Kola Urundai Kuzhambu:
Heat oil in a pan and add the cinnamon stick, cloves saute well. Add the onion and ginger garlic paste saute well.
Add the tomatoes, vegetable, and saute well. Once the vegetables become soft and cooked add the tamarind extract.
Add the turmeric powder, chili powder, coriander powder and salt, Let the Kuzhambu boil.
Grind coconut and add it or you can add coconut milk also. Once the kuzhambu boils well add the kola urundai and mix well.
Garnish it with coriander leaves and mix well. Serve Kola urundai kuzhambu with steamed rice or with idli.
Notes
1. add vegetables like drumstick, brinjal
2. you can add the urndai directly but fried balls are very tasty.