Banana Split Ice Cream Recipe, Easy Homemade Ice Cream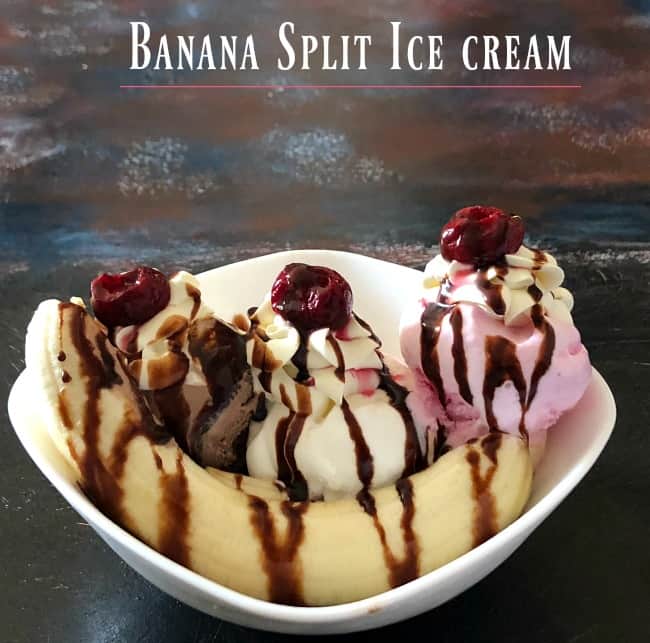 Banana Split Ice Cream Recipe with step by step photos and video. Easy Ice Cream that can be made within 10 mins. 3 ice creams like vanilla ice cream, strawberry ice cream, chocolate ice cream are the basic flavors of ice cream used to make this classic Banana Split Ice Cream. I have already shared all these ice cream recipes with step by step photos and videos so straight away am going to the recipe.
Actually, I made these 3 flavors ice cream on kids holidays. They only gave the idea of making this banana split ice cream. Many time we ordered in restaurants. since I like only vanilla flavor, kids have chocolate as usual whatever remaining A will have. This is what happens if we order Banana split. But this time is reversed. While taking video itself he reserved it and the whole bowl he completed 🙂
Ice cream Collections in my blog coconut ice cream, mango ice cream, paan ice cream, matka kulfi, Butterscotch Ice cream. 
Step by Step Banana Split Ice Cream Recipe:
Peel the banana and slice in half longways and arrange it in a bowl.
Scoop the ice cream one by one arrange on top of the banana. I scooped chocolate, vanilla, and strawberry.
Top it with Whipped cream and Cherries. You can garnish it with nuts and fruits also.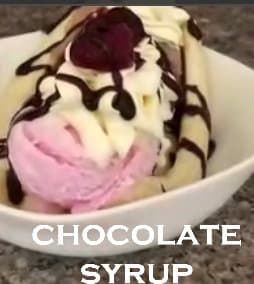 Top it with chocolate syrup and serve immediately. Banana Split ice cream is ready.
Banana Split Ice cream Recipe Video:
Recipe Card For Banana Split Ice Cream Recipe:
Banana Split Ice Cream Recipe, Homemade Banana Split
Banana Split Ice Cream Recipe
Author:
Premalatha Aravindhan
Ingredients
1⁄2 cup scoop vanilla ice cream
1⁄2 cup scoop chocolate ice cream
1⁄2 cup scoop strawberry ice cream
1 large ripe banana
2 tablespoons chocolate syrup
2 tablespoons strawberry ice cream topping (or fresh strawberries)
2 tablespoons crushed pineapple
2 tablespoons wet walnut ice cream topping
whipped cream
cherries
Instructions
Cut the ends of the banana off (about ¼ inch)
Slice in half longways.
Line up ice cream scoops next to each other in an oval deep dish or a banana boat.
Top the vanilla ice cream with the pineapple, the chocolate with the chocolate syrup and the strawberry with the strawberry sauce.
Spoon the wet walnuts over all three scoops of ice cream.
Top each scoop with some whipped cream and a cherry for each.
Happy Wednesday!