Easy Eggless Pineapple Upside down cake recipe without condensed Milk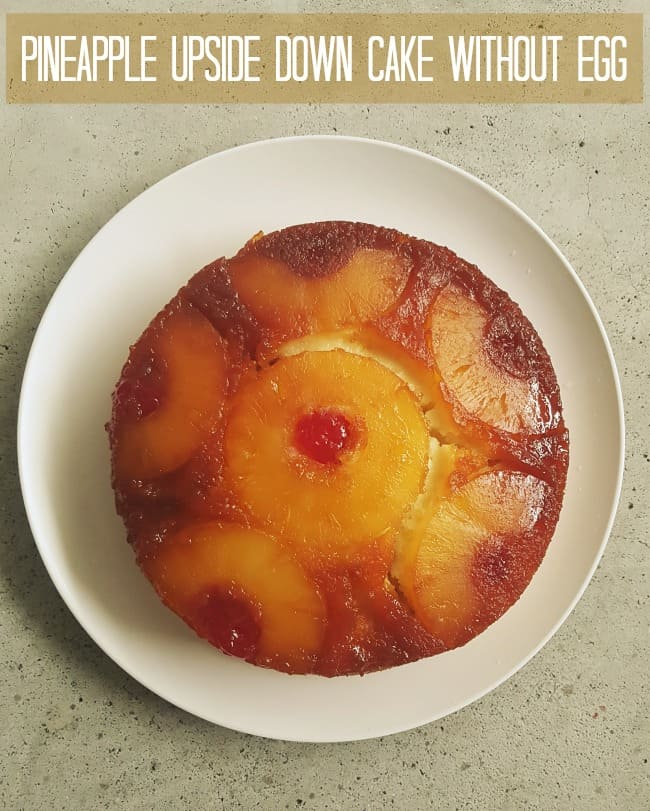 Pineapple upside down cake recipe with step by step pics and Video. Eggless Pineapple upside down cake recipe is super soft and made without egg and no butter used to make the cake, To make caramel we can use the butter. 100 percent Vegetarian Cake.Pineapple cupcake recipe is the one I have posted with the video. Many people tried and sent the pictures. Same like the pineapple cake recipe this Eggless Pineapple upside down cake recipe also have easy steps to follow with detailed video. Anyone can bake this if you follow the recipe. Do like and share the recipe if you like it. A collection of 30+ Eggless cake recipes is here do check it out.
To make Eggless Pineapple upside down cake recipe we need the pineapple slices. I have used the tin pineapples if you can the fresh ones you can use it. I have used the 1 cup of plain flour you can use the wheat flour also. Actually a few weeks back a reader was emailed about the electric beater for making cakes.   I just want to highlight her query here so that others will make use of it. " What kinda electric beater are you using? Is it necessary to use an electric beater or a hand beater is enough? I just started baking what should I buy to make a cake? " And then I replied to her query, There is no need to use electric beater just the hand beater is enough to make a simple cake. If you are a beginner don't invest more money on purchasing things, just the items whatever you have at home is more than enough. do check this post I didn't use any special tools to make this cake but still, my cake is fluffy.
How to make Eggless Pineapple Upside Down Cake without Condensed milk,
Easy Pineapple upside down cake without egg
Eggless Pineapple Upside down cake recipe without butter and condensed milk recipe.
Author:
Premalatha Aravindhan
Recipe type:
bakes, dessert
Ingredients
½ cup Ghee or Oil
3 tbsp brown sugar(for caramel)
slices pineapple (from 14-oz can), drained
6 tbsp oil
⅓ cup sugar
1 cup plain flour
1 tsp baking powder
1 tsp pineapple essence
½ cup milk
Water(optional)
1 tsp baking soda
1 tsp vinegar
Instructions
Take a pan add sugar once it started browning add the butter. Once it started to thicken switch off the stove.
Now take the baking, drop the butter and sugar on it and spread it over the tin.
Arrange the pineapple slices over the tin.
Now make the cake batter. Beat oil and sugar.
Seave the plain flour and baking powder add it with oil and sugar mix well.
Add pineapple essence, milk and water, mix well.
Add the baking soda and vinegar, mix well.
Pour the cake batter over the sliced pineapple and bake it for 30 mins. Pineapple upside down cake is ready.
Eggless Pineapple upside down cake recipe Video,
Tips to Make Perfect Eggless Pineapple upside down cake recipe
To make Pineapple upside down cake we need pineapple slices we can use either fresh ones or the tin ones but make sure that there no pineapple peels in it.
Drain the sugar syrup completely and then the pineapple pieces if you are using the tin ones.
 This Eggless Pineapple upside down cake recipe, I didn't use butter for making the cake I have used the oil. If you want either butter or ghee you can use.
If you don't get the pineapple essence you can use the pineapple juice, just 1/3 cup.
Once bake the cake let it cool down for some time and then tilt it in a tray. If you keep the tin along with the cake it will not come out of the tin because the caramel at the bottom become very hard.
Do try this Simple Eggless Pineapple upside down cake recipe and let me know your feedback! Many thanks in advance!!!