Cup Cake Decoration Tips | Simple Cup Cake Creations for Kids
What are cup cakes without frosting? but when they are too sweet,children avoid eating them.I wondered what if there is more decoration made to the cup cakes than frosting as they seem to love the cake itself.As Mom we have responsibility to give them good food at the same time we should make them happy,so here am sharing some of the tips i know and experienced in deco. Thanks one and all.
Things to Remember Before Frosting a Cupcake:
For frosting the cup cakes the cake should rise up nicely so choose the best cup cake recipe always.

Choose the cup cake liners which is suitable for all colours of frosting.

While baking cupcakes, it is best to place the rack in the centre of the oven to avoid
over-baking and also it helps the cup cakes to bake evenly.

Once baked cool down completely and then start you deco.
Choose the right Frosting and colours:
While frosting the cup cakes especially for kids first we should choose what kind of frosting they like more.

Don't Choose the frosting which is more sweet.Avoid Sour taste Frostings like lemony frosting etc…

For Chocolate cup cakes choose Chocolate Granache or any Fresh cream or whipping cream frostings.

Cream Cheese frosting,White Royal Icing,Choco Whipping Cream or any fresh cream based Frosting suits commonly for all kinds of cup cakes.

Think twice before you do frosting with rolled fondant frosting because it is too sweet and also next day it will become very hard.

Try to use light colours for kids they love purple,pink,light blue,light yellow,light green,etc…

I prefer to use fondant colours, it will get nice shade and glossy looks for frosting.
Cup cakes Decoration Ideas:

I didn't do the pro piping deco here because a reader asked me to do deco without piping which can be easily follow by all.so i did use simple deco.

Deco :1

For this deco i used the fresh whipping cream frosting and fondant colours like purple,light yellow and light green.
I used candy eyes which i bought from the poon huat shop here.
chocolate ganache for lips and nose.




Mix the colours with the cream. Apply the colours in the cup cakes no special tool is required for applying the cream.Just use the knife or flat spoons make sure that you have covered the entire cup cake.




Arrange the eye balls and draw the lips and nose using the chocolate ganache.

Deco:2




Apply little cream all over the cup cake and dip it over the sugar sprinkles.

Deco:3




Apply Little cream all over the cake and dip it into the chocolate rice.

Deco:4




You can also make the cartoon faces like angry birds,hello kitty.I used the jelly for the bow to make hello kitty.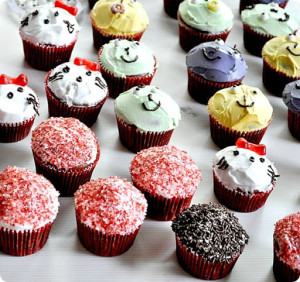 Cute Cups are ready for the Party now


Hope this post helps you guys! More to come! 🙂

Have a Nice Day!!!