This is one of easy biscuit recipe I have tried, I can't do perfect swirls but was able to manage it with piping bag and liked this cute design.
Ingredients:


100g Unsalted Butter
1/2 cup Icing Sugar
11/2 tsp Vanilla Essence
1cup Plain Flour
2 Pinch Baking Powder


For Dipping:


100g Dark Cooking Chocolate
30g Butter


Steps to Successful Baking:




In a mixing bowl beat the butter and icing sugar,until light and creamy.


Add Vanilla essence to the Mixture and again beat them in Medium Speed.




Shift the Plain flour and Baking powder and Mix them well,till the mixture is smooth.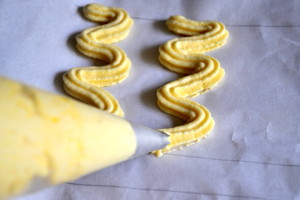 Drop the mixture into a piping bag fitted with 1cm pipping nozzle.




In a grease Paper,pipe mixture into 6cm wavy lengths.




Bake them at 180 degree Celsius for about 15 minutes/lightly golden.
Transfer biscuit to wire rack to cool.




Prepare the chocolate dip by double boil the butter and dark chocolate,till smooth mixture.Dip half of the each biscuits into melted chocolate.




Allow to set in for few minutes and then transfer it in an airtight container for up to 2 days.
Enjoy Baking!!!