Vella Puttu using Red rice, Sweet Puttu using Sivappu Arisi, Navratri Day 6 No onion no Garlic recipes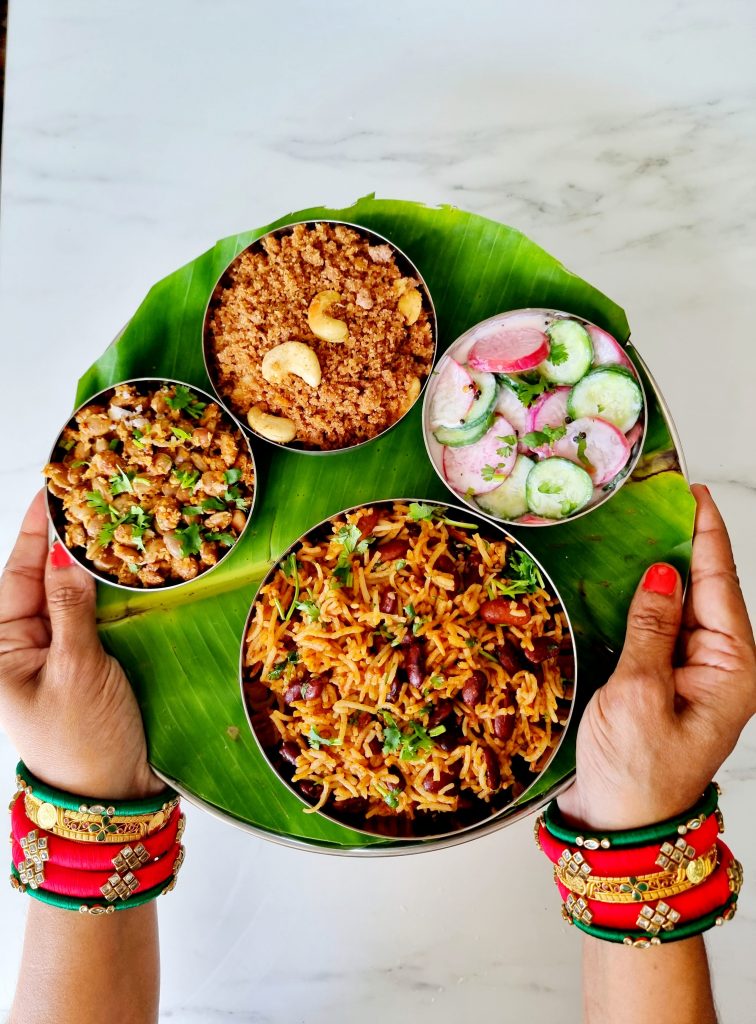 Navratri Vella Puttu using Sivappu airisi Flour, Instant Sweet Puttu recipe without Processing the Rice Flour. Easy Puttu recipe for Navratri. You all know the Health Benefits of Sivappu Arisi that is Red rice also know as Chemba Puttu Podi, is Very good for health and source of energy, strength. Red rice Puttu recipe I have shared recently using store-bought Chemba Puttu Podwer which is Short cut method of processing the rice flour. Traditional Soft Kozha Puttu and Kadala Curry recipes are here.
I still remember Navratri 2012 I published the Post Vella Puttu recipe on www.premascook.com, a traditional method using rice flour from the scratch. I can proudly say that was the First Vella Puttu recipe on Google. There are so many versions afterward. But we follow the same method when it comes to Navratri.
Navratri will not end without Vella Puttu. Why do we make Somehealthy still following the tradition? instead of using the normal rice flour, this Vella Puttu recipe calls Red rice flour. I used Kitchen Treasures  Chemba Puttu podi, the quality was good and tastes amazing. Not only puttu powder they masala powders are also very nice and flavourful.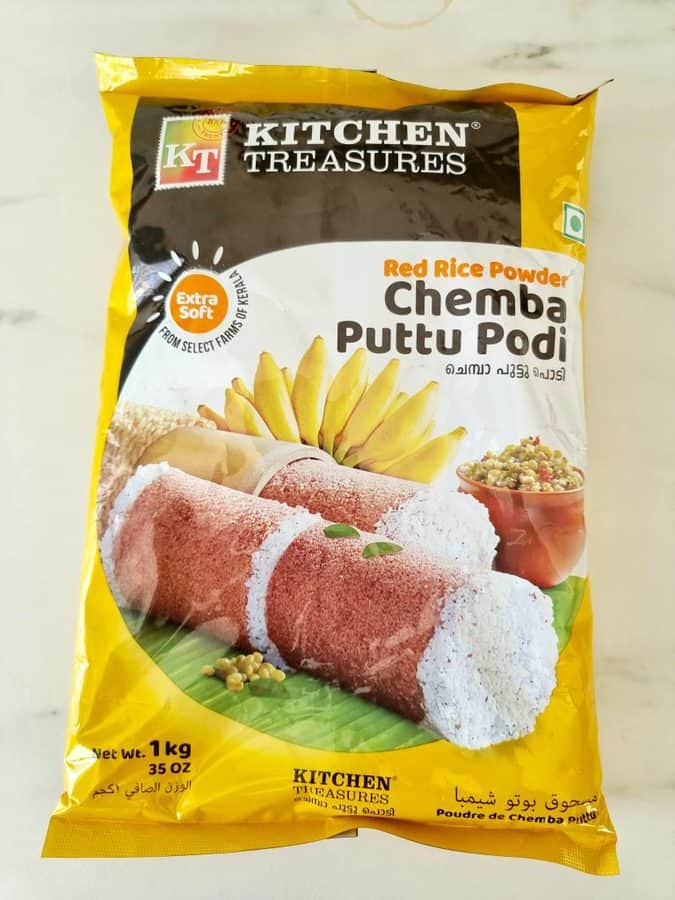 Vella Puttu recipe or Sweet Puttu recipe using Red rice, Sivappu arisi: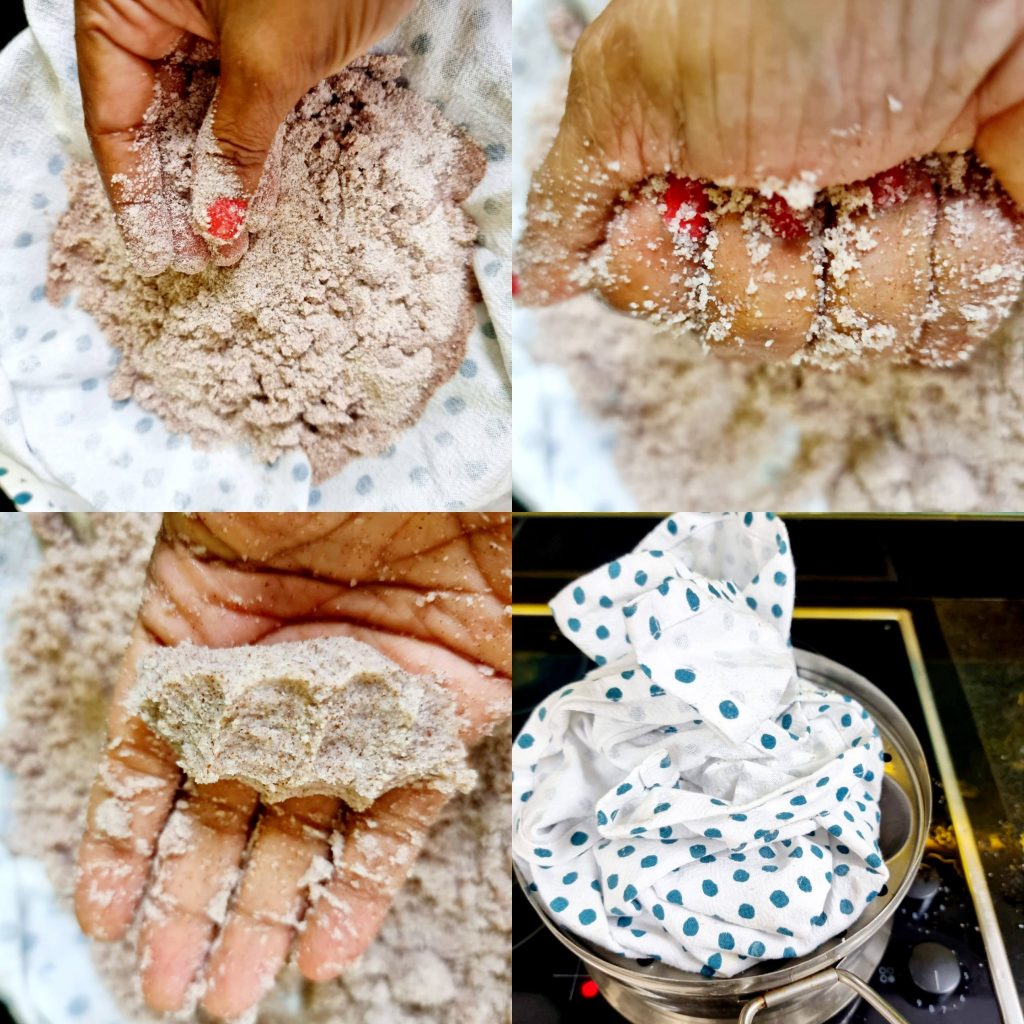 Take 1 cup of red rice puttu maavu( i used Chemba Puttu podi) you can use any puttu maavu or Idliyappam Flour also. Add ¼ tsp salt and mix it well. Take 1/2 cup water and sprinkle little by little and mix well with your fingertips.
Flour needs to hold shape when pressed between the fist and need to break on further pressing. Make a moist flour with a crumbly texture. Rest the flour for 10 minutes.
After 10 mins steam the Flour by keeping it in cloth-covered for 10 to 15mins.
Meanwhile, roast 10 cashews and ¼ cup of coconut in ghee and keep aside.
Make jaggery syrup with ¾ cup of jaggery, a pinch cardamom powder and ¼ cup water. Let it boil well till it reaches string consistency. Switch off the stove.(if you jaggery has impurities drain it and then make thick syrup)
Transfer the Steamed Puttu flour over a plate, add the roasted cashews and coconut, add
Jaggery syrup little by little using the spoon mix it.
Initially, it will be hot after 5 mins crumble the flour using the fingers. Vella Puttu is ready for Naivedyam.
Vella Puttu made with red rice puttu maavu is very healthy you can make it for Breakfast or Fasting too.
Try this healthy Puttu recipe and let me know your feedback.
Happy Cooking Makkale!!