Pakoda (killu)Vathal Recipe | Vadam Recipes | Summer Specials
Pakoda vathal or killu vadam are the Onion Flavoured Indian Rice Fryums (
vadam) . Without wasting the hot sun it's a nice idea of making vadams at home. How to make vadams at home,step by step in an easy way.


This vadam you can use the left over rice if you have or use the cooked rice soak overnight. We don't need any special tools or achu or mould to make this vadam,just our hand make this magic.That's why it is named as killu vadam/vathal.
This onion flavoured vadam is taste like pakoda and it can be eaten as a evening snack also so as the name pakoda vadam/vathal. Cliked this before i go to India and made this here so any body can make this vadam no need to be in special place or any thing. Do try this am sure you love it,


Hope everyone started making the vathal.Mom makes almost all kind of vadams.I learnt from her and too posted some simple Vathal/ vadam recipe like kotharangai,moor milagai,kathirikai,sundakai,mangai. Aishu likes vadams and only for her i started learning form amma,now i can makes almost all the vadams myself.
Pakoda (killu)Vathal Recipe | Vadam Recipes | Summer Specials


——————————————————————————————————————————
Author : Premalatha Aravindhan Category : Condiments Recipes,Cuisine : TamilNadu
Soaking time: overnight or 6 hrs   Preparation Time: 15 Mins Processing Time : 2-3 days
——————————————————————————————————————————
Ingredients: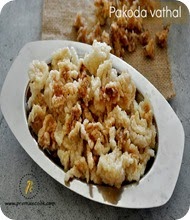 2 cups left over rice(cooked rice soaked overnight)
10 small onions(chopped finely)
1 tsp chilly powder
1/2 tsp fennel seeds
1 tsp salt

Method:


I have used the left over rice and soaked the rice overnight and then smashed it using the hands.
Take a mixing bowl and add the rice ,drain the excess water in it.
Add in the chopped onion , chilly powder, fennel seeds and salt mix well.
Spread a plastic sheet or cloth.Take 1 tsp amount of vadam and keep it in the sheet,you can use the hand and arrange it .complete it with remaining mix. once done leave it for a day to dry it in hot sun. Same day evening take out and change to a big plate.
Next day keep the plate in the hot sun. Repeat this for 2 days or till the vathal becomes completely dry.
Now the vadam is ready ,store it in a dry air tight bottle.Whenever required take it out and fry in oil ,serve it.
You can Make vatha kuzhambu using these vathal or  just fry it in oil and serve it as a side dish.
My Notes:
You need hot sun to make this vathal,you can keep it in balcony or terrace too.
Keep this vathal in hot sun for 2-3 days until it dry completely.
Store it in dry place in airtight container.
Do Make Vathal at home and enjoy