Sakkarai Pongal using Brown Rice | How to cook Sakkarai Pongal
Sakkarai Pongal
is the one which we make on
Pongal Festival
.This pongal recipe tastes delicious like usual sakkarai pongal ,but here the
with
healthy twist of
brown rice pongal
i shared today.
How to cook brown rice in pressure cooker
helps you to make this creamy sakkarai pongal ..sarkkarai pongal,
chakkarai pongal
recipe,
sweet pongal
, festival special pongal is the many names that we call Pongal…Please check here the Cooking Recipes of How to cook Brown rice before going to cook rice.You can check
sakkarai pongal using white rice recipe here with stepwise pictures.
Sakkarai Pongal using Brown Rice | How to cook Sakkarai Pongal


—————————————————————————————————————————
Author : Premalatha Aravindhan Category : Pongal Recipes
Prep and cooking Time: 45 Mins Cuisine : South Indian serves : 2-3
—————————————————————————————————————————-
Ingredients: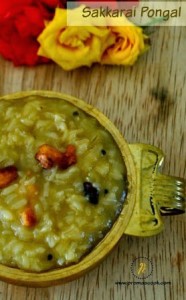 3/4 cup Brown Rice
1/2 cup Moong Daal
3 and 1/4 cups +1/4 cup water
1/2tsp Cardamom powder
3/4cup Jaggery(grated)
2tbsp Ghee
Few roasted cashew nuts



Method:
Before going to the method of cooking,check how to cook the brown rice in pressure cooker.
Cook the brown rice,moongdal together in pressure cooker with 3 and 1/4 cup water upto 5-6 whistles.
Meanwhile make the jaggery syrup,by heating the grated jaggery with 1/4 cup of water,till it turn as a thick syrup.
Strain this syrup and keep aside..
Once the steam gets released, mix the jaggery syrup along with the cooked rice-dal mixture.
Now add in the cardamom powder, ghee and roasted cashew nuts,cook until the mixture gets thickens..