I was impressed by the decoration of a strawberry cake in the bakery near to my house and thought of trying the same.At last it came out nicely.Strawberry is my daughter's favorite fruit.So i tried this simple decoration using the strawberries.




Ingredients:


180g Plain Flour
50g Butter,Melted
1tsp Baking Powder
1tsp Baking Soda
100g Condensed Milk
1/2tsp Strawberry Essence


For Decoration:


100g Whipping cream
50g Icing Sugar
50g Piping Gel
100g Almond Flakes


Method:


Shift Baking Powder,Baking Soda and Plain flour.Melt the butter and let it cool for sometime.Once the butter cool down completely add the shifted dry ingredients into the butter.
Beat them in low speed for 2 Min's.Add the condensed milk

into the beaten mixture and beat them again at low-medium speed for another 3-4 Min's.The mixture will be watery.
Finally add the Strawberry essence and gently fold in with the cake mixture.Grease the tin(Grease the sides with oil/butter and cover bottom with waxed paper).
Pour the mix into the tin and spread it evenly to all surface.Pre heat the oven and place the tin into the oven and bake the cake for 20-30 minutes at 180 degree Celsius.
Bake it well until the toothpick inserted in center comes out clean.Transfer the cake into a wired rack and cool it completely.Once done slowly take out the wax paper.Make it ready for Frosting.
Beat the icing sugar and Whipping cream at high speed for 5 minutes till light and fluffy.Set aside.If you are going to use it immediately then keep the cream in cold water while doing the decoration or you are going to do it later means keep it in the fridge and then use it.
Before spreading the cream check the cake is completely coolled or not.Then start spread cake with cream.Cover the whole cake with cream.
Start decorating with sides first with almond flakes.Once Completed the sides then decorate the top corner.Pipe some patterns on the top corners of the cake.
Arrange the strawberry on top by keeping one whole strawberry at the center and halved strawberries around it.Since the cake is in heart shape so we will keep the strawberries in same shape.
Once done,dip the brush in piping jelly and brush on the top of the decorated strawberries(gives more shining and the fruit also look fresh).Decoration is completed and the cake is ready with simple decoration.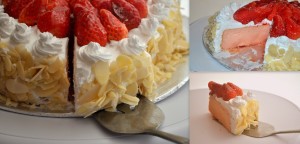 Refrigerate the cake before serving.






Iam sending this to


1) Best Western Dessert Event hosted by Priya Mahadevan.


2) Delicious Dessert Event Announced by What's Cooking Today!!


3) Cooking with fruits Announced by Taste Buds.


4) Veggie/Fruit of the month Announced by Pari and Priya.


Have a Nice Day!