Dates Chocolate with almonds | Dates Chocolate Recipe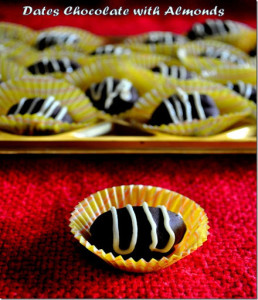 One fine morning me and my friend met up for casual chit chat,she brought a box of dates chocolate(from Dubai).She knows well that i don't like chocolates but she ask me try one.I refuse to try initially but then i tasted one,later completed 4 – 5 without sharing her
.Immediately i told her i will make & post the recipe for this yummy chocolate.Made this last week twice but then still feel like eat some

.Here is the recipe.
Ingredients:
200g Dates(25 medium sized dates)
Baked Almonds/cashew Nuts(whole as many as the number of dates)
1 cup Chocolate
1/4 cup White Chocolate
How to make Dates Chocolate:

I am using the dates with seeds,you can use the pitted dates.

If you are using seeded dates,slit open the dates and remove the seeds one by one.

Here am using the baked almonds.You can toast the nuts in an oven for about 10 minutes.If you do not have an oven,dry roast the same in a wok until golden brown.Stuff the nuts inside the dates and close it.

Repeat this for the remaining dates.Keep aside.
Lets see How to Melt Chocolate with double boiling method:


Fill 1/4th part of bowl with water.Take another bowl just a size bigger than the bowl which you took water,make sure that it should not immerse into the water bowl.

Chop the chocolate into equal size.
Keep the bowl which contains water in the stove at low flame.Once the water starts boiling keep the chocolate bowl on top of the water bowl.

After few seconds the chocolate gets starts melting.
Keep stirring because the chocolate is very delicate and can become lumpy or grainy if overheated or will burn on the bottom.

Once all the chocolate pieces melted stop the stove and remove the chocolate bowl from heat.
Here is the chocolate is ready for dipping


Dip the dates one by one into the melted chocolate.

Take it out using fork.
Arrange the dipped chocolate in the parchment paper or in a plate.

Repeat this for all the dates,keep aside.
Meanwhile double boil the white chocolate.

Fill the melted white chocolate into a piping cone .

Drop a design on top of the dates.

Set it in refrigerator for 5 to 10 minutes.

Then take it out.


Here is the Yummy chocolate is ready to Taste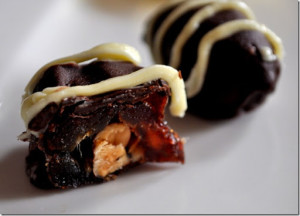 Do try this Yummy chocolate and enjoy!!!

Have a nice day!!!