Home made Fresh Guava Juice | Fresh Juice Recipe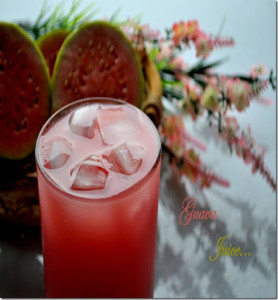 Hi Friends,really sorry for my disappearing was quite busy with work.Here am back with a refreshing juice. I mostly like guava when it's juiced.This is very simple juice yet healthy juice.







I used to buy this pink guava which is rich in vitamins and the juice also very sweet and yum.
The more you eat of the ripened guava or its freshly extracted juice, the more health benefits that you can gain. It is said that the reddish fleshed guava contains more nutrients than the white fleshed guava. So it would be more advisable for you if you choose to buy and extract juices from the pinkish or reddish fleshed guava.
You Need:
1 cup Fresh Pink/Red Guava,Peeled and chopped.
1 tsp Sugar
1/2 cup cold water
Ice Cubes
1/2 inch Ginger (optional)
Method:
1.Wash Guava and peel the skin.
2.Simply add little sugar,ginger(optional) and cold water and blend it in juicer or blender.
3.Don't forget to filter out the hard seeds.
4.Add ice cubes while serving.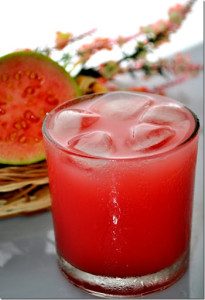 The resulted guava juice is very tasty and refreshing especially in hot weather.