How to make Barbie cake with Step by Step pictures |Barbie Cake for my Princess
This 4th sep my little princess turned six and what better than a Barbie Cake for my Doll.It was lot of fun baking this one because I tried to make this cake first time and came out pretty well.







She was so happy on seeing this Barbie Cake.All the hard work put in was worthwhile.I did the icing to match my daughter's Birthday dress and she loved it.


How i did the Cake?


To make the cake I did 4 layers of Basic sponge cake using different tins of sizes 9, 8 and 7 inch and on the top part used a small glass bowl.

Bigger size on the bottom and followed by the smaller size arranged it.
I have inserted lengthy wooden sticks at the corner of the cake,so that the layers will not come out.Finally i have inserted the doll at the middle.

Applied the Vanilla Cream frosting all over the cake and did piping on the top of the doll using star tip.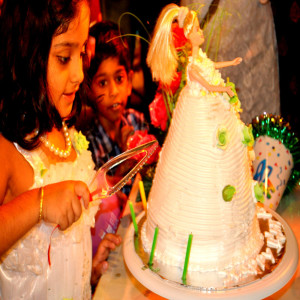 After all the fun, time to cut cake. Happy Birthday dear Aishu.