Somas is a Traditional Sweet and has been in my do list for long.My Mom Prepare this Sweet Somas for deepavali every year.I slightly made changes in the recipe and tried.I didn't get poppy seeds here,so i didn't use it in filling.If you get it Please try to use it.
1 and 1/2 cups Madai/Plain Flour
2 tbsp Rava
Enough water to Knead the Flour(i need 1/4 cup)
1/4 cup Dry/grated Coconut(i used desiccated coconut)
3 tbsp Roasted Bengal Gram(powdered)
Add the Madai flour,Rava,Salt and oil in a mixing bowl.Knead the flour by adding the water little by little into soft dough.
Make the soft dough and cover it with wet cloth and keep aside for 15mins.
Meanwhile Prepare the filling,here i used desiccated coconut,you can use dry/grated coconut.Powdered the roasted Bengal gram dal and sugar with cardamom, separately.
Heat the pan and add ghee into it.Add the Powdered Bengal gram dal,sugar and cardamom powder,coconut and roast it for 10 mins/till turns light brown.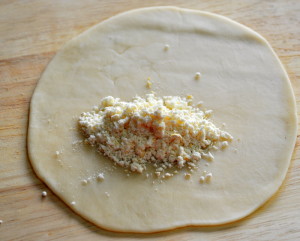 Make the dough into poori size and keep the roasted mix in the middle.
Keep this dough in the mould and close it or just close by pressing the edges with fork.
Make ready the Somas for frying.
Heat the oil in a kadai add the somas one by one and deep fry them.once fried take it out.
Technorati Tags:
Easy diwali sweet recipe
,
sweets with step by step method
,
Sweet Somas Recipe