Paneer Butter Masala recipe under 15 mins, easy method.
 How to make Paneer Butter masala with step by step picture.This is very easy and simple method that you can make it very quick. Let see how to make it.
150gm paneer
1/2cup tomato puree
2 onions (grind to fine paste)
1tsp garam masala powder
1tsp coriander powder
1tsp ginger garlic paste
1/2tsp chilli powder
2tbsp oil
1/2 cup fresh cream
Salt
Method:
Heat the oil, fry paneer cubes on medium heat until golden brown.
Take out the paneer from oil and put it in hot water for few mins.
Heat the oil in a kadai,add onion paste and saute it for 2 mins
                                        Add tomato puree and ginger garlic paste,simmer it for 3 mins.
                                 Add coriender powder,chilli powder, garam masala powder and salt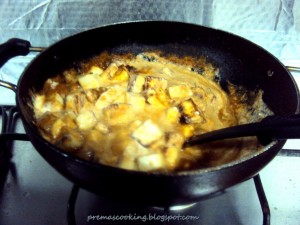 Add fresh cream and paneer,stir until gravy becomes thick.Once it becomes thick,transfer it into a serving bowl.Serve hot with rice/rotis.