Butter/Margarine 125g
Sugar 1/2 cup
Eggs 2
Vanilla Essence 1tsp
Self Raising Flour 1 cups
Milk 1/2 cup
Coco powder 1/2 tsp
For jelly:
Mango Flavoured Jelly powder 1 pkt
sugar 1/2 cup
Fresh fruits of your choice
Method:
In a mixing bowl beat the butter and sugar,till fluffy.
Add eggs and beat in high speed for 2 mins.
Mix the flour and vanilla essence and milk,beat well.
Take a tbsp of cake and mix coco powder and drop the middle of the cake tin and remaining mix around it.
Bake it for 35-40 mins at 180 degree Celsius.
Turn cake over onto a plate and let it cool for sometime.Meanwhile the Prepare the fruit jelly.
Boil the jelly powder in water with sugar for 2 minutes in microwave.
Drop the jelly mix in the same tin which you baked the cake and arrange the fruits over the jelly and refrigerate it for 20 min.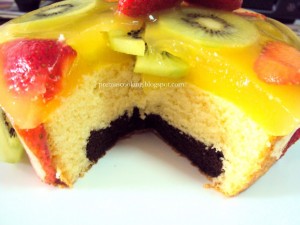 Once it done take out slowly and place it on the top of the cake.
Keep it in fridge before serving.