Mini Idly Recipe | How to make Idly batter | Murugan idly kadai 14 idly recipe
Soft Idly,yup it's a dream for many people.Many of my friends asked me how you are making soft idlies.
The secret behind soft idly is the batter.The way we are grinding the batter and ratio of rice and dal we are adding is very important.Here am featuring how to grind the batter for the soft idly.
4 cups Idly Rice( am using house brand idly rice)
1 cup Urad Dal ( Udhayam Brand)
1/2 tsp methi seeds/fenugreek seeds
Water as needed for grinding
Add methi seeds with the dal and soak it for three hours.Soak rice separately for 3 hours.We are going to grind dal and rice separately.So after 3 hours wash the dal first.Before start grinding drop little water(1 cup) and then add the dal inside the grinder and grind it.Am using ultra grinder for grinding.
Add little water(1/4 cup) while grinding,don't add water at a time drop little by little,till it comes like light and fluffy batter.After 3-4 minutes add water(1/2 cup).Check the dal fully grinded and the batter should be fluffy.Then take out the flour in a bowl.keep aside.
Wash the rice and clean.Add little water first before adding the rice to the grinder.Don't drop the rice at a time,add little by little.
Grind the rice little coarsely not nicely,add little water if needed.Once the stage occurs transfer it to the big bowl or box.
Once the batter transferred to the box,immediately wash the grinder vessel and stone and then proceed to the next step.Now ,add salt and mix well using your hand.



Mix the batter well.Close the box and keep aside for overnight or let it to ferment for 8 hours minimum.


Cover and let it for 8 hours and after 8 hours the batter will become double – triple quantity of the batter.Mix well before you make idly.


How to make mini idly:




Grease the steamer.Drop a tsp of batter in each holes and steam the idly.Once the idly get steamed take it out in a plate or a bowl.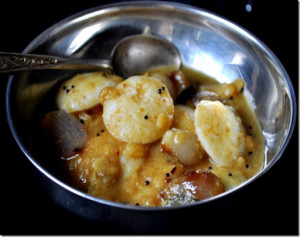 Add sambar over it you will get sambar idly.You can also make kuzhipaniyaram using this batter.


HAVE A NICE DAY!!!