Mor Kuzhambu Recipe | How to make quick mor kuzhambu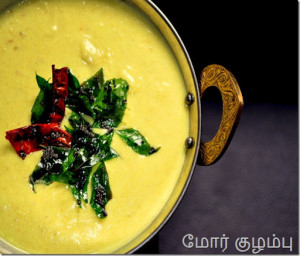 Mor Kuzhambu is extremely luscious and is relishing when served along with plain hot rice. If you are a curry lover, you will simply love this recipe. Not only that it its tasty, it is also a healthy and nutritious diet. So, if you want to eat some thing light and less spicy next time, have Mor Kuzhambu with plain rice. Scroll below for the recipe.
Ingredients :
3 cups Buttermilk,slightly sour is better
1 tsp Turmeric Powder
A Pinch Hing
1/2 tsp rice

1-2 Green Chilly
1tsp Cumin Seeds
2-3 tbsp Coconut, shredded

1 tsp Mustard Seeds
1 sprig of Curry Leaves
Oil, for seasoning

Method:
Soak dal and rice half an hour you start cooking.Add turmeric and salt to the buttermilk and mix well.Add water if the buttermilk is too thick.
Roast in a little oil, one by one, coconut, jeera and green chillies.Blend the fried items with socked rice and dhal to a smooth paste.
Add this paste to the buttermilk, keep it in oven for 3 minutes or in the stove and heat for approximately 4-5 minutes at low flame.
If you cooking in oven stir in every 1 minute.Season it with mustard seeds,dry red chilly and curry leaves.Garnish on top while serving.
You can add vada into the curry once you take out the curry from the fire / oven.
You can add veggie like winter melon/ladies finger into the curry.Before adding it you need fried it nicely.

Caution :

This dish cannot be re-heated on direct fire.