Aadi Perukku Recipes, Procedures & Dates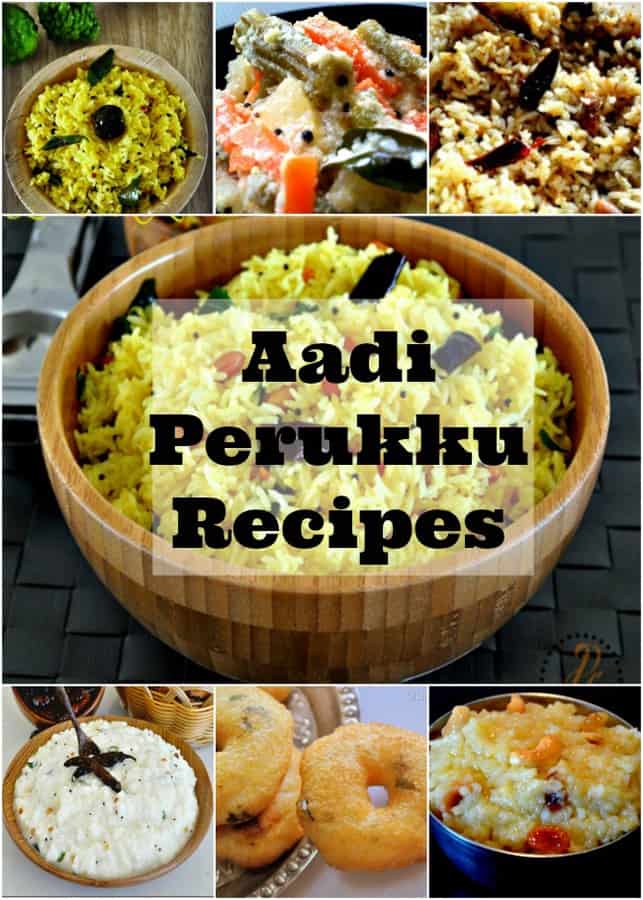 Aadi Perukku or Pathinettam Perukku is the Hindu Festival to pay tribute to the water. It is one of the Monsoon Festivals of India. You can check more details about the Aadi Perukku Festival here. A Very famous festival in my hometown Thanjavur. We won't miss this festival. Do check the Pooja Procedure and Recipes for the upcoming festival Varalakshmi Nombu.
Aadi Perukku Date, Aadi Perukku is falling on August 2nd of 2016. It falls on Tuesday. The Usual Procedure is that People make all the variety rice and carry it along with the fruits and other pooja items. First, they will take a Sanam(bath) and then they will pray to the God. Some people they have the rituals of wearing the yellow saradu and they will tie to other and unknown people whoever coming to the river. This is how they will celebrate in the river.
How we Celebrate,
We don't have the practice to go to the river bank but we will take the bath in the good water and then start doing the pooja. Mom makes kapparisi and the main fruit of this pooja is Vizham Pazham, Naga Pazham and all other seasonal fruits of this month. In mil house, they make variety rice and do pooja. Some people don't have the practice of making the kapparisi but my mom makes kapparisi.
Along with the Variety rice, vada and sakkari Pongal also they will make. Also like Vijayathasami day people believe that whatever we start on this day it will develop. That is why this day is called as Perukku means Develop, Aadi Perukku. Usually, all the sumangali will change the new thali saradu on this day. Newly married girls change the saradu to thali chain on this day called Thali perukkuthal. You can check here the Adi Perukku Kolam.
Aadi Perukku Recipes, Pathinettam Perukku Specials,
Aadi Perukku Recipes,

Happy Aadi Perukku in Advance.