Palamusu (Tender Jackfruit) Karamudhu | Jackfruit Thoran Recipe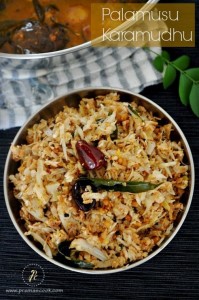 Tender Jackfruit
is a common vegetable in many cuisines. I thought it is common only in TamilNadu cuisines but after reading the article in
Wikipedia
, about this vegetable, I was amazed to find out how popular it is all around the world.
This Tender Jackfruit Curry is also called Palamusu in tamil.This curry is prepared for Ammavasya and Maasa pirappu(1 st day of the tamizh month).
Karamudu is nothing but curry or poriyal in Iyengar language also called karaimedu.Any curry or poriyal(vegetables) is called karamudu,like cabbage karamudu,vazhakkai,karamudu,sepankizhangu karamudu,etc…
Do you remember that last year , i had shared raw jackfruit stir fry and raw jackfruit sambar ? Recently i have posted the Jackfruit seed pakoda.All the Jack Fruit seed recipes are unique and tastes equally good in their own way .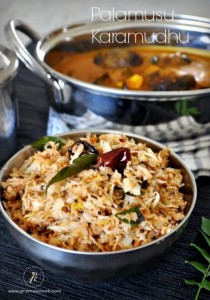 In India, it is popular all the way from North to the South. I am going to share with you my mother in law's recipe that my husband loves always. It is simple to make and is healthier in that it doesn't use that much oil.
Palamusu (Tender Jackfruit) Karamudhu | Raw Jackfruit Thoran Recipe
——————————————————————————————————————————
Author : Premalatha Aravindhan Category : South Indian Side Dish,Poriyal Recipes
Prep and cooking Time: below 30 Mins Cuisine : South Indian,Iyengar serves : 2
——————————————————————————————————————————
Ingredients: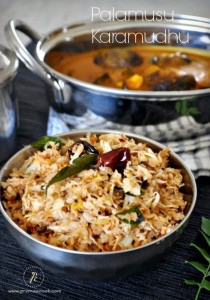 250 gm palamusu(Tender Jackfruit)
2 dry red chilly
1 tsp oil
1 tsp mustard seeds
1 tsp urad dal
a pinch hing
a sprig curry leaves
salt as needed.
To make karamudu podi:
1 and 1/2 tbsp dhaniya
3-4 dry red Chillies
1 and 1/2 tbsp toor dal
1/2 tsp Hing
1 tbsp coconut
Dry roast the ingredients in the list of karamudu podi and powder it in mixie ,keep aside.
Apply coconut oil on your palm and knife. Cut the unripe jackfruit lengthwise. Quarter each half into four pieces. Remove the middle stem portion and the outer thorny skin using the sharp knife.Chop the flesh into smaller pieces.
Once done grate it and keep aside.I have used the unskined palamusu and grated it .

Heat oil in a pan,add in the dry red chilly.Temper the mustard seeds,urad dal, hing and curry leaves.
Now add in the grated palamusu and then drop water and salt,cover it with the lid.let it cook for sometime.
Once the palamusu becomes soft add a tbsp of karamudu powder and mix well.Palamusu is ready to serve.
My Note:
The measurement mentioned for making karamudu podi list is bit more ,you are going to add a tbsp only to the karamudu so the remaining powder you can reserve it in fridge.
Usually the palamusu will boiled and then grated but here i have grated and then boiled while making you can do by both the method.