Mini Poori Recipe | Poori(Puri) Recipe | Kids Breakfast Recipes
Poori with Potato masala is Aishu's fav combo always.She used to ask me to make Kutty(mini) pooris for breakfast. Sometime i pack Pooris for lunch too.I think all the kids love poori especially if we make mini pooris.Here is the Poori Recipe.
Mini Poori Recipe | Poori(Puri) Recipe | Kids Breakfast Recipes
——————————————————————————————————————————
Author : Premalatha Aravindhan Category : Breakfast Prep & cooking Time: 15 Mins
Cuisine : South Indian Yeilds : 10 mini Pooris
——————————————————————————————————————————-
Ingredients: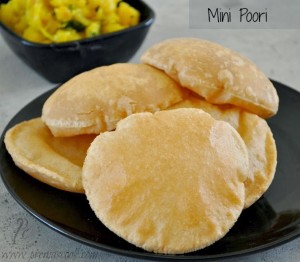 1 cup Wheat flour
1/4 cup Water or as needed
1 tsp Semolina
Salt as needed
Oil for frying
Method:

Take flour,semolina,salt in a bowl.

Add water little by little while you mix the flour to resemble a crumbly mix.

Then carefully sprinkle water to gather to a dough.
You can make it by either way,one is divide the dough into equal sized balls and then roll out into circles or if you want mini pooris,dust the surface and then roll the out the dough into big circle.

And then cut it out using small bowl so that you can get mini pooris.

Heat the oil and then drop the poori slowly.
Fry it in medium flame.Oil should be enough to immerse the puri. Gently press the puri with the ladle when it tries to float on the top. This will make it puff well.

Turn over and cook the other side or til it become light golden colour.Mini pooris are ready to serve.

My Notes:
Adding of semolina gives cripy pooris.If you want soft pooris can skip adding Semolina.

Fry the pooris with enough oil otherwise you won't get fluffy pooris.


Do try this delicious breakfast combo,poori with potato masala!!!

Have a Nice day!!!