Black-Eyed Peas with Mushroom (Lobhiya Khumb Masala)-side dish for Roti
This is one of my favorite side dish which i make very often for dinner.It is so simple recipe and also it tastes so good.My words and the pictures may not do justice to the dish,clicked it in a rainy day
. You have to try and find how tasty this masala turned out.
Ingredients:
1/2 cup dried black
1 cup mushrooms,
cleaned and sliced
2 tbsp oil
1 inch cinnamon stick
1 medium sized onion chopped
1 tsp cumin seeds
1 tsp ginger garlic paste
2 tomatoes finely chopped
1 tsp coriander powder
1 tsp chilly powder
1/4 tsp turmeric powder
salt as needed
Method:
Soak the black eyed peas in water for over night.

Pressure cook the peas with enough water and 1/2 tsp of salt.
Heat oil in a kadai and add the cumin seeds and cinnamon,let them sizzle for few seconds.

Add the chopped onion and tomato,cook until they become soft and mushy.
Add in the ginger garlic paste,turmeric powder,coriander powder ,chilli powder and salt(little salt only for masala).

Cover and cook over low heat,until the raw smell goes.
Drain the water completely and then add the cooked black eyed peas to the masala and mix well.
Add in the mushroom with the masala,uncovered and cook well.

Add in fresh coriander leaves.Serve hot.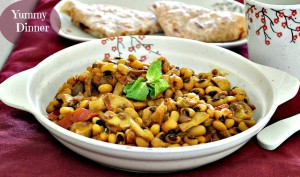 Serve hot with plain basmati rice or rotis.

My Note:

1.I used dried black eyed peas,if you are using canned black eyed peas then rinse and drain the water,use it.
2.We are adding salt while pressure cooking the black eyed peas so add little salt which is required only for masala.
3.After adding the mushroom don't cover and cook it.No need to add water because after adding mushroom it oases out water so it is enough for the mushroom to cook.
Do try this Masala and Write your Feedback to me.

Have a Nice Day!!!