Tamatar Chaman | Paneer in Thick Tomato Gravy | How to Blanch Tomatoes to make tomato Sauces
Tamatar chaman is very famous in Kashmiri cuisines.I get a chance to taste this in a food festival here recently.After that i got the recipe from a friend and tried at home.It's a wonderful side for Rotis.
Before proceeding with the recipe it is important to make thick tomato sauce for the gravy so here am sharing how to blanch tomatoes to make tomato sauce.
Choose nice ripe red tomatoes.Give them a quick wash in cold water.

Using a sharp knife drop a cross over the tomatoes.
Boil the water well and then drop the tomatoes inside the boiled water that the crosses facing at the top.

After 2 minutes take it out from the water.you can see the skin peeled away after taking out So we no need to peel the skin.It will comes out easily.Now the blanched tomatoes are ready to make sauces.
Let Proceed with the Tamatar Chaman Recipe: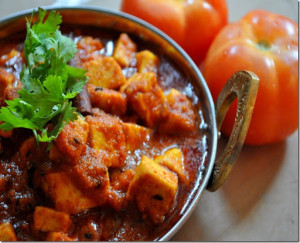 We need:

3 tbsp Oil
250g Paneer diced into small cubes
4 blanched tomatoes
1 Onion,chopped
A pinch Hing
3 cloves
1 inch cinnamon stick
1 bay leaf
1 tsp cumin seeds
1/4 tsp turmeric powder
1 tsp Kashmiri Chilly powder
1/2 tsp Fennel seed Powder
1/4 tsp Garam Masala powder
5 Garlic Pods
1 inch ginger diced

Method:



Add the chopped onion,diced ginger and garlic in the mixie Jar.

Then add the blanched tomatoes into the mixie and grind it.(I used the small Jar so i grind it by adding two tomatoes initially and then other two.If you are using a big jar you can grind four tomatoes together).Don't add water will grinding.

Heat oil in a kadai,shallow fry the Paneer and take it out.Add cumin seeds and hing in the same kadai, once the seed splutter add the cinnamon sticks,cloves and bay leaves.

Now add the grinded tomato paste and let it cook well,till the raw smell goes.

Then add the Kashmiri chilly powder,fennel seed powder and turmeric powder and saute well.( I used Kashmiri chilly powder to get the perfect taste and colour if you don't have Kashmiri chilly powder you can use the normal chilly powder also.)

Add the fried Paneer into the gravy and mix well.

Finally add the garam masala powder and mix well.

Once the oil oozes at the top,remove it from the stove.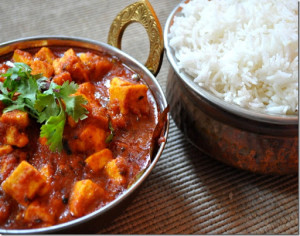 Serve it hot.It goes well with rotis.Do try with hot steamed basmati rice,taste would be divine
.

Have a Nice Day!!!