Kesar Badam(almond) Burfi Recipe | How to blanch Almonds | Burfi Recipes
I love all kinds of burfis,i have posted the recipe for coconut burfi (microwave version)and updated the stove top version too.Here am sharing the Almond burfi recipe,it is very simple to make.Only thing is that peeling the almond skin takes much time.If we know how to blanch the Almonds then making this burfi is so simple.
How to Blanch Badam(Almonds):
I have blanched almonds to make Badam(Almond) burfi so i used milk to soak almonds.If you are going to make almond flour or any other almond recipes,you can soak it in water also.
Take 1 cup of almonds and soak it in 2 cups of milk for about 1 hour.Then in a microwave safe bowl cook it for 30 seconds and take it out.If you don't have microwave then cook the soaked almond in stove for about 1 minute and remove it from the stove.

Take out almonds from the milk and reserve the milk for later use.Let it cool down for sometime.Then press with little pressure,skin will comes out easily.Do the same for all almonds and make ready.Now the blanched almonds are ready to make Burfi.
Lets Proceed with Kesar Badam Recipe:
Ingredients:
1 cup Almonds
2 cups Milk for soaking almonds
2 tbsp Milk for soaking Saffron
1/2 cup Condensed milk
2-3 Cardamom Crushed
2+3 tbsp ghee
6-7 strands of saffron + 3-4 strands for garnishing
2 drops yellow food color (optional)
Few Almonds and pistachios(Sliced) – for garnishing
Method:

Soak the saffron in 2 tbsp of warm milk and set aside.

Blanch the almonds in 2 cups of milk and use the milk for grinding the almonds.

Using a blender or mixie,grind the almonds and milk together into a fine thick paste.
Take a non stick pan, melt 2 tbsp of ghee in it and then add the grinded almond paste and keep stirring continuously.

After 2 minutes,add the saffron along with the milk and mix well,stir continuously.

Once the mixture thickens, add the condensed milk.

Melt the remaining 3 tbsp ghee separately in pan and then add the hot ghee little by little into the badam mix,keep stirring.

Add the food color,crushed cardamom,mix well.Then again stir for another 5-7 mins, making sure it doesn't stick to the bottom.

Once the ghee oozes out and the bottom turning to crisp.Switch off the stove.
Remove from the heat and grease a plate or tin.Transfer the mixture to the tray while it is still warm.

Use a wax paper for levelling the burfi.

Garnish with some chopped almonds and pistachios and the remaining saffron strands.Using Wax paper slightly press the on top of the topping,so that it will stick well into burfi nicely.
Slice it into your desired shape while it is still warm.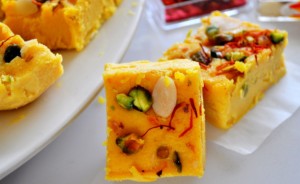 Here is the Kesar Badam Burfi is ready to serve. Wanna a Slice???

Have a Nice Day!!!