Barbie doll cake for birthday Party
Kids grown up so fast these days, don't they?

It seems like just yesterday we celebrated Aishu 6th Birthday last year but then again her next birthday here.A month before the big day, she started asking me what cake you are going to bake for my birthday this year.I was showing many cakes but she stick on with her last year birthday Barbie cake.
The blogger in me replied – darling I have already posted the recipe can u please change your mind?
Aishu – no amma, am going to celebrate my birthday with my class mates at school this time if you make Barbie then my friends will enjoy the cake. "Make for me Please… Pretty Please "

Me – [I can't say no once she ask me like this am flattered] Anything for your darling.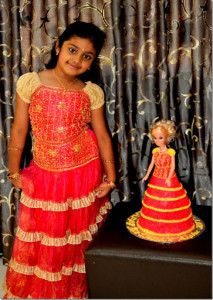 Last year I made the Barbie doll cake with replicating her dress, so this year again I did the same. I couldn't find golden colour though I search high-low all over so in the end settle myself with mustard colour and the cake still looks beautiful, don't you think? 2 dolls together
.
Want to make a Barbie doll cake for your little one's birthday?
Please check the recipe with step by step procedures for the Barbie Doll Cake here…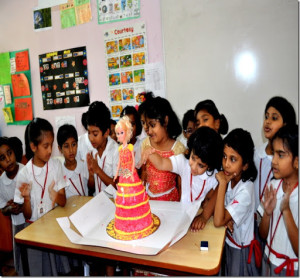 Look at all the kids face

She came and told me that they enjoyed the cake and Birthday Party