We are all celebrating the first day of Pongal,Bogi.I used to prepare Poli for bogi along with general festival menu.My mom is best in making Poli and i have got the recipe from her. Also to get the best colour i have got a secret from my mom. We make Poli(covering) out of Maida and not wheat flour. It is best recommended to add a pinch of Turmeric to it while the flour is about to process, Don't add too much. when we need it you may feel its very light but once you finish kneading it soft the colour just comes up bright and your Poli look great. Thanks for that Amma.
Ingredients:
1 cup Maida Flour
A pinch Turmeric Powder
A pinch Salt
2 tbsp Gingerly Oil
For Grinding:
1/2 Channa Dal
2 tbsp Grated Coconut
1/4 tsp Cardamom Powder
1/2 cup Sugar/grated Jaggery
Method:
Prepare the puranam first,by cooking the Channa Dal in pressure cooker till it is soft.
Add the cooked Channa Dal in kadai in low heat and also add the sugar/grated jaggery into the Dal.
Add grated coconut and cardamom powder into the Dal,cook them well until it become thick.Let it cool for sometime.
Make them into small balls.Poli filling is now ready.Lets prepare poli.
Add maida,salt,turmeric in mix bowl.Mix them well along with enough water ,the dough should be like chapati dough.
And then add a tbsp of oil over the dough and knead them well once again.
Keep it aside for at least 3 hours.
Make a small ball from the dough. Roll each ball like Poori and stuff the purnam inside the balls and close it. Again using zip lock cover press the side into round shape.
Then put each poli in the pan and add little oil and fry one side.Turn other side and fry it.The delicious Purana Poli is ready for neivediyam.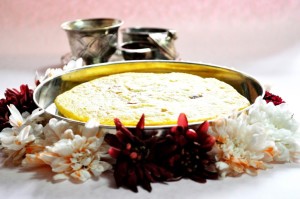 Wish u Happy Pongal to all.