Gobhi/Cauliflower Manchurian(dry)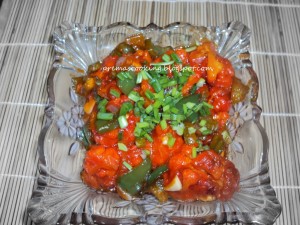 Ingredients:
1 medium sized gobhi
2 tbsp corn flour
1/2 tsp maida flour
2 tsp ginger garlic paste
1 tsp chilli powder
A pinch food red colour(optional)
2 medium sized chopped onions
2 cloves garlic chopped
A pinch ajinomoto
2 tbsp light soya sauce
2-3 tbsp tomato sauce
1 green bell peppers chopped
Oil for frying
Few spring onions chopped
Salt to taste

Method:

Takeout the florets from the cauliflower and boil the floretts for 3 mins in microwave.Drain the water and put it in a big bowl.Add the maida flour,corn flour,1 tsp ginger garlic paste,chilli powder,red food colour(optional),salt into the floretts directly mix them well.Heat the oil in the kadai and deep fry it.Keep aside.

Heat the oil in another pan and add the remaining ginger garlic paste, chopped onions and green bell pepper,garlic to it.Add aginomoto, soya sauce and tomato sauce to it.Add fried Gobhi and mix well. Garnish it with spring onions. Serve the gobi manchurian hot with roti/fried rice.