Rose Milk with Ice Apple (Nungu) | Summer Coolers | Bandung
The summer is in full swing,to beat the heat we really need a summer cooler.Nungu/ice apple is also known as palm fruit which cools many of our parched throat on a hot summer day.Do try this rose flavoured summer drink and stay cool.
Serves : 3
we Need:
2 cups Milk
3 tbsp Rose syrup
5 Ice apple (nungu)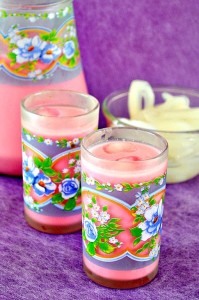 Method:
Boil the milk well and refrigerate it for 2 hours.

Peel the nungu skin,chopped and keep it in fridge.

After 2 hours,mix rose syrup,milk and nungu,serve chill.


If you doesn't want to add nungu,just serve the rose milk alone without adding nungu.
Variations:
If you doesn't get the rose syrup you can add 3 tbsp sugar and 3 drops rose essence.

You can also make rose milk shake ,just add a scoop of ice cream and blend it along with the rose milk.Rose milk shake is ready.
Have a nice Day!!!