Pori Urundai Recipe for karthigai | Pori Urundai Recipe with updated video
I will make Pori Urundai every year for karthigai Deepam but unable to post the recipe.This year i made it in advance and here am posting this easy recipe.
Ingredients:
4 cup Pori ( puffed rice)
3/4 cup grated Jaggery
1/3 tsp cardamom powder
1/3 tsp dry ginger powder
1/4 cup water
2 tbsp ghee( to grease the hands)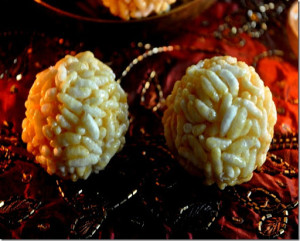 Method:



Add the dry ginger powder and cardamom powder with the puffed rice and mix well,keep aside.

Dissolve Jaggery in water and then drain the impurities and boil it.
Test the syrup consistency,drop a little jaggery syrup in wate.

If you touch it should form a soft ball.If you miss this consistency you can't able to roll the ball,it will become very hard So switch off the stove in correct stage.
Drop the syrup over the pori and mix well.

Use ladle to mix because the syrup will be very hot.

Grease your hand with ghee and take little amount of pori.Just lightly press it and keep it in a plate.Do it very faster.

Don't try to make the balls now just press the pori and keep it because if the syrup becomes hard you can't make the remaining pori,just roll the pori and keep aside.
Once you rolled all the pori,now take one by one roll it nicely into the ball shape and arrange it into the plate.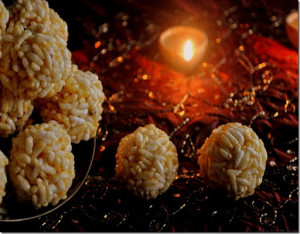 Don't forget to make Pori Urundai for Karthigai Deepam

Have a Nice Day!!!