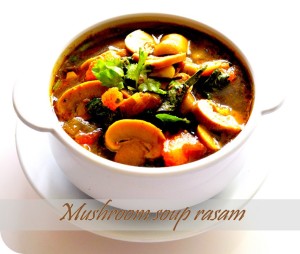 This soup not only assists in digestion,but also smells and tastes yummy!!!
I used tin mushrooms,you can use the fresh ones also.Fresh mushroom taste better than the tin ones.


If you are using the tin mushrooms,drain the water and then wash it.Slice it into thin pieces.


Ingredients:


100g Mushroom
1 inch Cinnamon stick
2 Cloves
1 medium sized onion,finely chopped
1 medium sized tomato,finely chopped
2 Green chillies
1 tsp Oil
1 cup Thick tamarind extract
1/2 tsp Ginger garlic paste
1 tsp Cumin powder
1/3 tsp Ajwain powder
1/2 tsp Pepper powder
2 and 1/2 cups Water
Coriander for garnishing
Curry leaves 1 sprig
Salt to taste

Method of Preparation:


Heat oil in a kadai,add cinnamon stick and cloves.Once they crackle,add chopped onion ,curry leaves,chopped tomato and green chillies.Fry them in oil,till the onion and tomato become soft.




Once the onion and tomato becomes soft,add ginger garlic paste and sauté it for few minutes.Then throw in the sliced mushrooms.




Add the tamarind extract and water.Then add the turmeric powder,salt,cumin powder,ajwain powder and pepper powder.




Boil it till the rasam foams at the top.Garnish it with coriander leaves.




Here it is ready.Adjust the Salt and pepper according to your taste.




Transfer it into a serving bowl and serve hot.


Have a nice day!!!