Speciality of this rasam is garlic,i donot throw the garlic skin too as it gives very nice flavour to the rasam.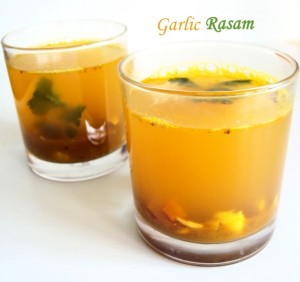 10 garlic cloves
3tsp toor dal cooked
1tsp jeera powder
1tsp pepper powder
1tsp mustard seeds
1cup thick tamarind juice
2 tomatoes chopped finely
1 red chilli
1tsp oil
1tsp coriander seeds
1tsp turmeric powder
1 sprig curry leaves
Coriander leaves for garnishing
Method: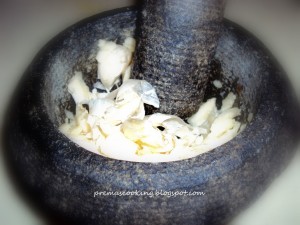 Pressure cook the tuvar dal with enough water and keep aside.Grind jeera, red chilli, pepper and coriander seeds into fine powder.Meanwhile crush the garlic cloves with the skin and extract tamarind juice.keep them aside.Heat oil in the kadai and add the mustard seeds,crushed garlic,hing powder,tomatoes,turmeric powder.Once the tomatoes and garlic cooked well add the tamarind juice and cooked tuvar dhall water and the rasam powder also.Once it started foaming at the top,remove it from the stove.Garnish with coriander leaves.Serve hot as an appetizer. A very good remedy for cold and indigestion.