karadaiyan-nombu-adai-recipe (easy method)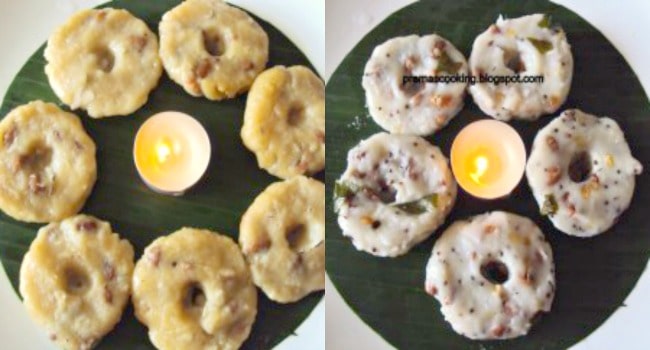 karadaiyan nombu adai recipe sweet salt recipe, March 14th is the karadayan nombu for 2010.In advance,i am posting the recipes and procedures in my blog.I hope it will be usefull for my friends.I want to share the benefit of karadayan nombu to all women because Karadayan nombu is an important festival mainly for Married women and on this day, they will observe fast for their husband wellness. It is observed during the transition of Tamil Month Maasi and Panguni.So i am going to take this nombu for my beloved husband wellness.The procedure and  recipe may be slightly vary from others but the purpose is the same and that is important.
How the karadayan nombu came and why we need to do it?
If u read the below story,you can understand.
The story of Satyavan and Savitri.
            Savitri is a daughter of King Ashtapati and she got permission to find her man on herself. One fine day, Savitri met a satyavan in the forest while he was carrying his blind parents in two baskets balanced on either side of a stick. Savitri was very much Impressed by Satyavan's devotion towards his blind parents and she decides to marry him. On enquiry, the King found out that Satyavan was the son of a deposed king and that he was destined to die in a year.
King first refused to the marriage but later he accepted the proposal. Savitri got married with satyavan and both went to the forest.They led a happy life and soon a year passed and Savitri realized that Satyavan would die any moment. So she kept fast and always followed him.One day while cutting woods, satyvan fell down and fainted. Soon, Savitri realized that Satyavan is dying. Suddenly she felt the presence of Yama, the god of death. She saw him carrying the soul of Satyavan and she followed Yama.
Yama first ignored Savitri thinking that she will soon return back to her husband's body. But she persisted and kept on following him. Yama tried few tricks to persuade her but nothing worked. Then Yama said that it is impossible for him to give back the dead as it is against the nature's law. Instead, he will give her three boons.Savitri agreed with the first boon she asked for a son for her father. With the second boon she asked that her in-laws be reinstated in their kingdom with full glory.
Finally, for the third boon she asked 'I would like to have children.'Yama immediately said 'granted.' But soon Yama realized that he had been tricked by Savitri.Yama remained silent for a minute and then smiled and said 'I appreciate you persistence. But what I liked more was you readiness to marry a man whom you loved even though you knew that he would only live for a year. Go back to your husband he will soon wake up.'Soon Savitri and Satyavan were reunited.
Procedure for karadayan nombu:
Basic Preparation:
Find the exact time when Maasi month ends and Panguni month starts. The pooja is to be performed at this time,this year the time is 8pm(sg time).Three things required is yellow thread(saradu),butter and karadai dish.
Karadai Nombu Thread: Take a yellow thread and tie few flowers and two pieces of turmeric pieces in the middle. When the thread is tied around the neck, the flowers will be like a decoration on a necklace and the turmeric in the center like a pendant.
No other special dish required.
Asual like our normal pooja,clean the house and put kolam in the pooja area.
Put flowers for the god photos and keep some fruits.
Only thing is that fasting begin at sunrise and 8pm(ends at the massi month ends and panguni month begins)
The fasting is too long so can have fruits but dont cook or eat rice.
Prepare the karadai dish and place it on the banana leaf and other items are banana,bittel leaf and nuts,unbroken coconut and butter.
Arrange everything 10mins before and the nivediya is offered to the goddess.
 It can be offered by sprinkling some water and ringing the bell or by performing an arati.
Chant associated with Savitri Nombu
Urugda Venaiyum orundaiyum nan tharuven.
Oru kalamum yen kanavan yenaai piriyath iruka vendum
(I offer adai and butter to you. So that my husband and I never separate)
Then the devotee can wear the yellow thread with flowers and turmeric around the neck.
After prayers and the fast is broken by eating a Karadai adai.
That which is left on the banana leaf is distributed as prasad along with Karadai dish.
 How to make Sweet Karadai :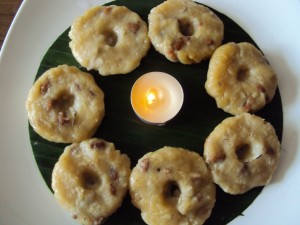 You Need:
Ingredients:
1 cup of rice flour
¼ cup of Karamani (Cowpeas)
1 cup Grated Jaggery
¼ cup of grated or finely chopped coconut
3 cardamon crushed or 1/3 tsp powder
1 and 1/2 cup Water

Method of Preparation for Sweet Kara Adai :
Roast the rice flour – stop when it is off white to light brown color(the consistency should be like the rice powder used for drawing kolams).
Once roasted properly keep the rice flour aside.
Slightly roast the Karamani and then pressure-cook till soft and drain the excess water.
Boil water. Add the rice flour slowly to prepare the dough.
Stir well to avoid lumps.
Cook till the dough achieves a thick consistency.
Add jaggery to the dough and stir well until both blends together.
Add cardamom powder, cooked Karamani and coconut and stir well to blend.
Cook the dough on small or medium flame. Keep stirring until the dough thickens.
Allow dough to cool.
Make balls of the cooked rice flour and flatten on leaves.
Make a hole in the center of the non-cooked kara adai or patties just as in a donut. Make as many as possible with the available batter.
Steam the patties in an idly-cooker
Now the karadai is ready for nevediyam
 Savoury Adai :
Ingredients:
1 cup Rice flour
1/4 cup Karamani
1/3 cup Grated Coconut or coconut bits
1-2 Green chillies
Mustard 1 tsp
Urad dal 1 tsp
Hing ½ tsp.
Curry leaves a few sprigs
Oil 1 tbsp.
Salt to taste
Method of Praparation for Savoury Adai:
Roast the rice flour to a golden brown colour.
Pressure cook the karamani in just enough water, until half done.
Heat the oil in a pan and add the hing. Add the mustard.
When mustard starts spluttering, add the urad dal, green chillies and curry leaves.
Add 2 cups of water, salt to taste and the coconut gratings.
When the water starts boiling add the karamani and rice flour and cook until all the water is absorbed. Allow to cool.
Make balls of the cooked rice flour and flatten on leaves and steam for 10 mnts.
Now it is ready for nevediyam
All the best!!!