Paruppu Urundai Khuzhambu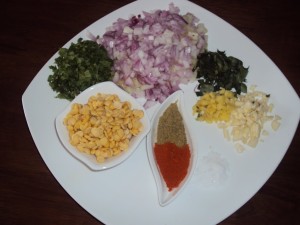 Ingredients:
Garlic 1 pod finely chopped
Coriander Leaves little bit chopped finely
Ginger a small piece chopped finely
Salt to taste


Method:
Soak the channa dhal and toor dhal in water for one hour and grind coarsely.

Add little water while grinding,but should not be watery.

Add Fennel powder and chilly powder and all the ingredients together and make small balls
Ingredients For Curry:


Onion 1 chopped
Tomato 2 chopped
Fennel seeds Powder 1 tsp
Mustard seeds ¼ tsp
Chili powder 1 tsp
Coriander powder 2 tsp
Tamarind Extract 1 cup
Coconut milk 2 tsp
Salt to taste


Method:
Heat oil in a kadai,add mustard seeds into it.Once the seeds splutter,add onion and tomatoes into it and fry them for a while.

Add sombu Powder,turmeric powder, chilly and coriander powder and fry the masala until oil separates from it.

Add the tamarind Extract into it.Let it to Boil for a while till the raw smell goes out and add the coconut milk.Cook in medium flame,till it become thick.

Slowly drop the dal balls one by one and close it with a lid and cook for few minutes.

Don't stir the gravy otherwise the balls will break.

If you feel the ball may break then you can either steam the balls in idly steamer and add to the gravy.

Cover it with a lid and cook until the balls are cooked well.

When it boils garnish with coriander leaves.

Paruppu Urundai Khuzhambu is ready to serve.