Vetrilai Rasam Recipe in Tamil, Easy Betel Leaf(vethalai) Kashayam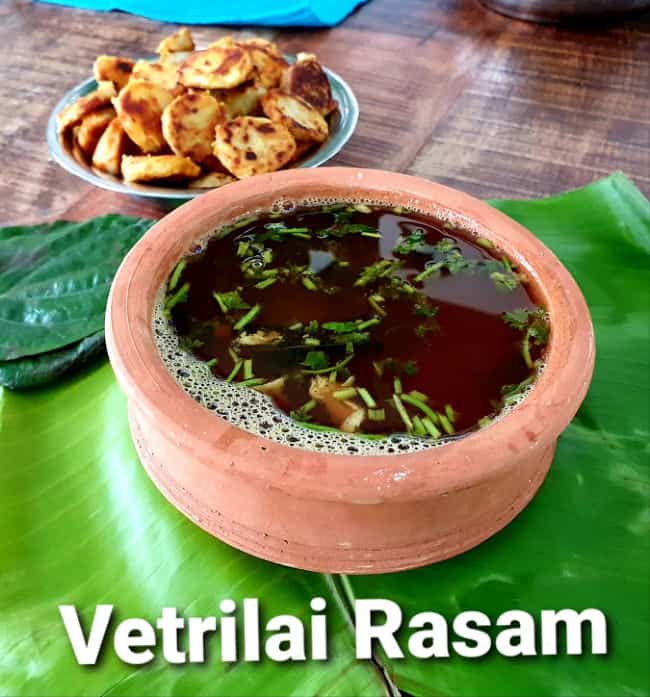 Author:
Premalatha Aravindhan
Cuisine:
TamilNadu, Indian
To grind the fresh Vetrilai Rasam Powder we need:
2-3 fresh Young bettle leaves/வெற்றிலை
1 Peppercorns/மிளகு
2 tsp Cumin Seeds/சீரக விதைகள்
1 tsp Ajwain/ஓமம்
OTHER Ingredients:
1 small gooseberry size Tamarind/சிறிய நெல்லிக்காய் அளவு புளி
1 medium-sized Tomato/தக்காளி
1 tbsp Toor Dal/துவரம் பருப்பு
2 tsp Salt/உப்பு
Few chopped Coriander Leaves/கொத்தமல்லி இலைகள்
For Tempering Vetrilai Rasam:
1 tsp Mustard seeds/கடுகு
1 sprig Curry Leaves/கறி இலைகள்
1 tsp Ghee/நெய்
1 pinch Hing/பெருங்காயம்
take 2 young betel leaves, wash and remove the stem and tear it.
In a motor or in a mixie jar add the VETRILAI RASAM POWDER ingredients like Bettle leaves, Pepper & cumin seeds, ajwain seeds crush them coarsely or powder them coarsely in mixie.
FRESHLY GROUND VETRILAI RASAM POWDER is READY.
Pressure cook the dal. Mash the tomatoes with your hands & keep aside. Extract the tamarind and keep aside.
Now add the mashed tomatoes, tamarind extract & cooked dal to a saucepan.
add 1 cup of water, turmeric powder & salt. Finally, add the grounded rasam powder and mix well
Allow the Rasam to boil for about 2 minutes in a low to medium flame.
when it started to foaming, add coriander leaves and switch off the stove.
Heat ghee in another pan, add mustard seeds let it sputter and curry leaves, hing. Add this tempering over the rasam.
Delicious Homemade VETRILAI RASAM is ready to serve!
1. Mash the tomatoes and make like a tomato puree. Even you can grind the tomatoes but you will miss the tomato chunks in the rasam.
2. Adjust the pepper & chili according to your spice level.
3. Always make the rasam powder freshly and make rasam, stored rasam powder will not taste good as fresh ones.
4. Always serve hot piping rasam.
Recipe by
Prema's Culinary
at https://premasculinary.com/2020/03/vetrilai-rasam-recipe-vethalai-rasam.html