Mint Channa Pulao Recipe, Vellai Kondakadalai Pudina Sadam recipe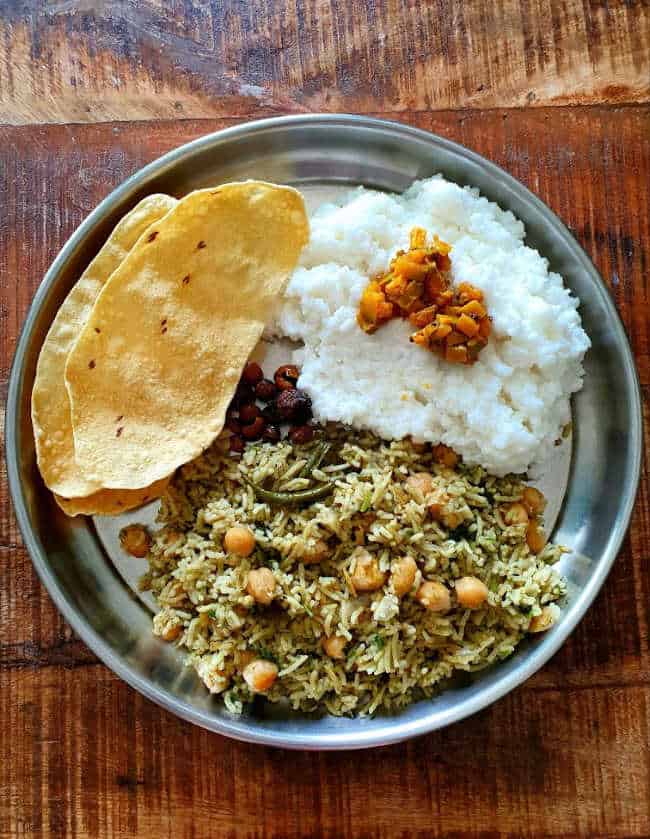 Author:
Premalatha Aravindhan
Cuisine:
South India, Indian
1 cup Long Grain Basmati Rice/பாஸ்மதி அரிசி
1.5 cup water/தண்ணீர்
1 bunch fresh mint leaves/புதினா இலைகள்
½ channa/வெள்ளை கொண்டைக்கடலை
1 tbsp oil/எண்ணெய்
1 tsp fennel Seeds/பெருஞ்சீரகம்
2-3 Cloves/கிராம்பு
1 inch Cinnamon/இலவங்கப்பட்டை
2 cardamom/ஏலக்காய்
2 Bay Leaves/பே இலைகள்
1 cup Onion sliced/வெங்காயம்
2 tsp Garlic garlic paste/இஞ்சி பூண்டு விழுது
2-3 Green Chilli Slit into half/பச்சை மிளகாய்
1 tbsp ghee/நெய்
Coriander leaves for garnish/கொத்தமல்லி
1 tsp salt/உப்பு
Wash the rice and soak it in enough water for 30 minutes. soak channa overnight and cook channa(vellai Kondakadalai) with a little salt, set aside. Grind the mint leaves, set aside.
Heat oil in a pan and add cinnamon stick, bay leaves, cardamom, cloves, and fennel seeds. Let it crackle.
Add sliced onion and saute till it turns light brown. Add green chili and ginger garlic paste, saute well.
Grind the fresh mint leaves and add the puree.
Add the boiled channa and saute for few mins till the raw smell goes off.
Add the rice and water. Cover and cook the rice until the rice is cooked well.
Add the ghee and coriander leaves, mix well with the rice. leave it for few mins to let the rice puff up.
Serve hot pulao with rice or papad.
Don't skip adding ghee finally because fat makes the rice fluffy.
Don't stir the rice with a ladle, it will break the rice.
always use the long grain basmati rice
while grinding the mint you can add green chili. I skipped because it is made for my kid's lunch box.
instead of white channa you can add green peas or black channa
Recipe by
Prema's Culinary
at https://premasculinary.com/2020/02/mint-channa-pulao-recipe-pudina-sadam.html