Seppankizhangu Kara Kuzhambu recipe, Hotel Kara Kuzhambu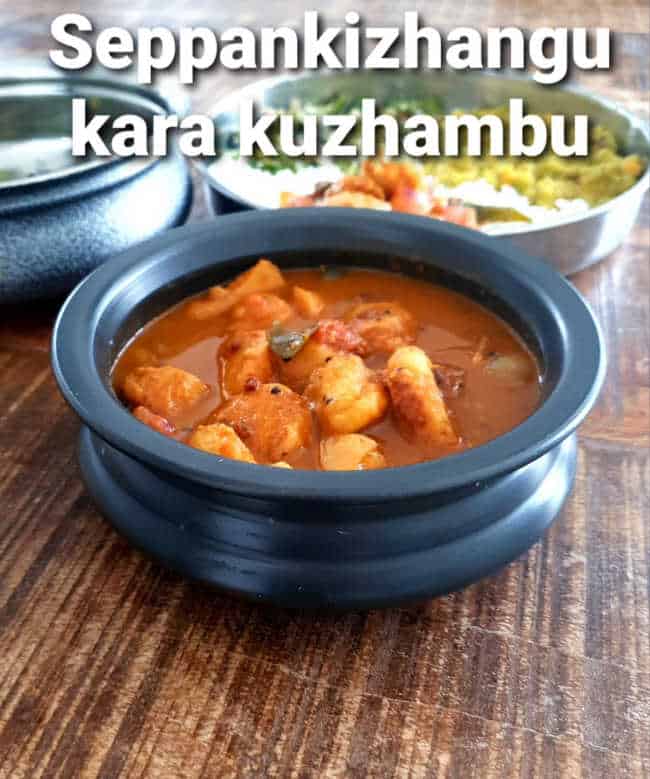 Author:
Premalatha Aravindhan
1 tbsp sesame oil/எள் எண்ணெய்
1 tsp Mustard Seeds / கடுகு
¼ tsp Fenugreek Seeds / Vendayam / Methi/வெந்தயம்
A sprig Curry leaves/கறிவேப்பிலை
1 medium-sized onion / வெங்காயம்
1 medium-sized tomato/ தக்காளி
200g Colocasia/சேப்பங்கிழங்கு
Salt to taste/உப்பு
1 tsp Turmeric Powder/மஞ்சள் தூள்
1 tbsp Chilli Powder/மிளகாய் தூள்
2 tbsp Coriander Powder/கொத்தமல்லி தூள்
1 Lemon sized Tamarind(puli)/எலுமிச்சை அளவிலான புளி
Water as needed/தண்ணீர்
Soak tamarind(puli) in water for 10 mins. Squeeze and extract the thick juice, keep aside. Boil the colocasia(seppankizhangu), peel the skin and cut into medium-sized pieces.
Heat oil in a pan, add mustard seeds, fenugreek seeds, Once the mustard seeds started splutter add curry leaves.
Add in onion or shallots(Chinna Vengayam), colocasia(seppankizhangu) and tomatoes and saute for 5 mins till it slightly turns golden.
Add in spice powders like turmeric powder, coriander powder, sambar powder, salt and mix well.
Add tamarind extract and mix well.
Bring it to a boil, simmer for 10 to 15 mins till the oil oozes on top.
colocasia(seppankizhangu) kara Kuzhambu is ready now you can Serve with steamed rice.
you can use veggie of your choice like drumstick, ladies' finger, etc.
you can add coconut
adjust the spice and salt level according to your taste buds.
extract the thick tamarind juice
adjust the water level if you want thick kara Kuzhambu to add little water.
Recipe by
Prema's Culinary
at https://premasculinary.com/2020/01/seppankizhangu-kara-kuzhambu-recipe.html