Eggless Burger Buns recipe, Foolproof Recipe any one can make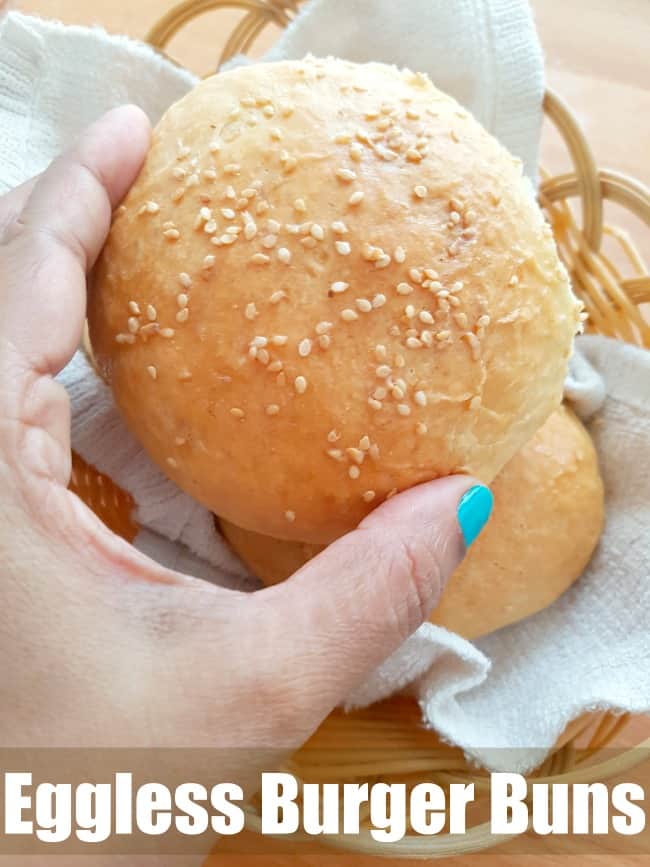 Author:
Premalatha Aravindhan
For Proofing Yeast:
½ Cup warm milk
1 Tbsp Sugar
1 tbsp active dry Yeast
For the Dough:
2 Cups All purpose flour(maida)
½ teaspoon Salt
Proofed yeast
2 Tablespoons Butter or Oil(i have used olive oil)
Extra oil for kneading the dough
For brushing the Burger buns:
Milk or butter
Take a mixing bowl add the plain flour,salt and mix well.
Add the oil crumble the flour. Add the proffed Yeast mix and mix well.
Now your dough is sticky add little more oil and knead again for about 5-8 mins. Then wrap the bowl and rest the dough at least for 45 mins or till it become double the size.
After 45 mins you can see the dough become double up nicely. Take the dough punches it down and lets the air go, start to knead it in a worksurface just for 2 mins.
Now start making the buns, Divide the dough since I have used 2 cups flour this recipe yields only 4 buns so I have divided the dough into 4.
Roll the dough like round buns and then arrange it on a greased tin.
Wrap the tin, cover and keep for the second rise of buns for 10-15 mins.
Once the buns have risen nicely we can start baking.
Bake it for 15-20mins at 180-degree celsius.
Once the buns started golden at the top remove it from the oven.
Allow it to cool down on a wired rack for few minutes and then enjoy your burger.
Yeast proofing is very important if the yeast does not properly foam up discard the yeast and try with another one.
If you are using the instant yeast no need to proof it you can use it directly with flour.
don't use hot water or milk. Always use the warm milk or water.
resting time of the dough depends upon your climate of your country so better keep the dough in a warm place to get it risening.
Recipe by
Prema's Culinary
at https://premasculinary.com/2016/09/eggless-burger-buns-recipe-bun.html