Simple Vegetable Noodles Recipe, step by step photos and video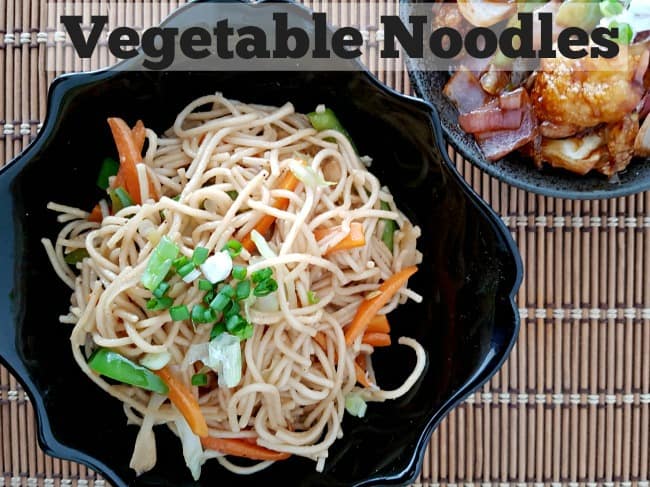 Author:
Premalatha Aravindhan
100 g Chinese noodles(eggless)
1 medium carrot, julian cut
2-3 medium spring onions, finely chopped
8-10 french beans, thinly sliced diagonally or finely chopped(optional)
1 small to medium capsicum/green bell pepper, Julianned or finely chopped
2-3 garlic cloves, finely chopped
1 to 2 tsp soy sauce or as required
2 tbsp oil
freshly powdered black pepper as required
salt
Prepare the veggies.cut everything and make ready to make Noodles
heat enough water in a pan with salt and few drops of oil.
when the water comes to a boil, add the noodles. allow to cook the noodles till they are just soft.
once the noodles are cooked well, drain them in a colander or sieve.
then rinse the noodles in fresh water by placing the colander or sieve under fresh tap water.
drain & keep aside.
heat oil in a wok or pan.
first add the garlic and stir fry on medium flame.
increase the flame to high & add the chopped spring onions.
keep on stirring continuously and stir fry the onions till they become translucent.
add the veggies - carrots, capsicum.
continue to toss & stir fry on a high flame till the veggies are almost cooked.
don't cook the vegetables till they become completely soft.
add the soy sauce, salt and pepper. stir and then add the noodles.
keep on tossing and stirring till the veggies are mixed well with the noodles for minute or two. switch off the fire.
check the taste and add more salt, black pepper or soy sauce if required.
serve the vegetable noodles with your favourite side dish or as it is.
you can also serve the noodles with Gobi manchurian or veg Manchurian.
Recipe by
Prema's Culinary
at https://premasculinary.com/2016/08/vegetable-noodles-recipe-chinese.html